I want to teach my children about money, but as in all matters of parenting I'm wishy washy from time to time. Sometimes I get it right… I wrote about teaching teens about money management here. But, what about kids? How we teach our kids the value of a buck?
I was forced to deal with teaching my teen about spending once she discovered the mall… Any mom of a preteen or a teen will either LOVE or HATE the mall. No gray area or wishy washiness when it comes to the mall!
My kids will say the following over and over and over again: "Mom, Dad, I need more money!" "Can I get a raise on my allowance?" "But, [fill in blank of the friend who gets everything] gets [fill in the name of an expensive item or an amount of money] ALL THE TIME!"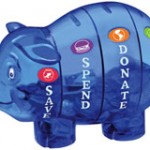 Money is a site that helps kids learn financial responsibility by giving them the tools they need to understand money management better. Started by a mom, Susan Beacham is well recognized for her efforts to teach good habits in kids before the bad ones develop. Moms and Dads might want to Susan's blog for tips and information on helping kids get smart about money. Savvy Generation
Money Savvy Generation sent me a Pig Bank to review and one to give away. The PIg Bank was a hit with my younger kids. Both want to use it! Not only is the Pig Bank a great gift for the child in your life, but you are teaching life skills too! It has moveable chambers for categories of "Save," "Spend," "Donate," and "Invest." I have never seen a children's bank or toy with a spot for investing money — good idea!
GIVEAWAY for Musings from Me readers! I have a Pig Bank to giveaway to one lucky reader! One comment = one entry.
– What is your best advice for teaching kids about money.
– Tweet about the giveaway as part of the contest as well. Follow @SusanBeacham on twitter and send a tweet with the hashtag #MoneySavvyPig. Leave url for tweet as an entry. Readers of this blog will be entered into a drawing for: (a) $25 gift certificate to Barnes and Noble and a custom Recommended Reading List for the children in the winner's life and (b) an entire Classroom Solution for a child in your life.
– Follow this blog via Reader.
– Follow this blog via e-mail.
– Follow me on twitter.
– Tweet the giveaway: @MusingsfromMe is giving away a piggy bank to teach children about money: http://tinyurl.com/yfgc6tt Enter now!
I was sent a Pig Bank for review. Giveaway is open to U.S. residents only. Giveaway ends November 24, 2009 at 11:59 p.m.