A week or so ago I was invited to a fabulous lunch. Now if you know me at all, you know that lunch for me is a yogurt eaten while working on the computer or a bagel with cream cheese while standing at the kitchen counter. Not gourmet at the Musings from Me house especially not during the day!
I was invited by Disney to preview the Disney Digital Books at the very chic restaurant, Brasserie Beck, in D.C. I seriously had to raid my closet for something appropriate — not pajamas! I tried to maintain my cool while driving to DC — I was like the Country Mouse coming to the big city wondering why there are no tractors or dead deer!
Disney Digital Books are set up in a browser on your computer — kids can only access Disney Digital Books and NOT the internet. I like this safety measure. I don't want my younger kids to be roaming about the internet without supervision.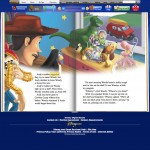 The Disney site features age appropriate books for kids ages 2 through 12. Books offered include Toy Story and Up to Cinderella and Sleeping Beauty to the classic Disney books from my childhood.
As a mom I am constantly looking for ways to engage my children in learning. I want my kids to love reading like I do. Over the years I have read to all 3 children on a daily basis – sometimes multiple times a day when they were very young. My preteen now reads to her 6-year-old brother. My 6-year-old will now read books to me. He is proud when he tackles a hard word. The cycle of reading: mom to child, sibling to sibling, child to mom.
At his age, he needs help reading some longer books. The Disney Digital Books helps him to read longer books. The books are shown on the screen. The child can turn the page by clicking the mouse. In the past, we have had online books on CD-ROM, but the Disney Digital Books collection is extensive. I think my son will have many happy hours of reading fun.
GIVEAWAY: Want to win a month's subscription to Disney Digital Books? Enter now! One comment = one entry.
– What is your favorite children's books ever? My favorite books are the Chalet School books by Elinor M. Brent Dyer.
– Subscribe to this blog via reader.
– Subscribe to this blog via e-mail.
– Tweet this giveaway: @MusingsfromMe is giving away a month subscription to Disney Digital Books. Enter now: http://tinyurl.com/yl3hm6e

I was given a one-month subscription for my family to play with and for me to review. This giveaway is open to U.S. and Canadian residents only. Giveaway ends on November 16 at 11:59 p.m.