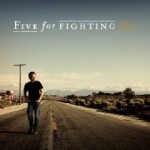 I'm in a listening to music type of mood. I might be the last person on earth without an ipod. Thank goodness, I can listen to music on the computer or CD player. #notatechie
I'm listening to an album right now. Want to know who it is? I'll tell you it is a good one! Want a hint…or two? Here goes…
– the first track's title — Slice — is a homage to American Pie
– the lead singer started a organization devoted to raising money for various charities when users view video clips provided by visitors to the site. Current views are over 3 million with approximately $300,000 donated!
–
The group's breakthrough came in 2001 with the Grammy Nominated song "Superman," from the Platinum certified "America Town." The song was climbing the charts upon release, and when 9/11 happened, it became a song of healing for the nation. The group performed the song at a post 9/11 fundraiser The Concert for New York which paid tribute to all the firefighters, police officers, and paramedics affected by the events of 9/11.
Can you guess who I am talking about? I'm talking about Five for Fighting! Click to learn more about Five for Fighting? Want to listen to a track?
Listening to "This Dance" — good piano. "Timberline" reminds me of Bruce Hornsby. Pondering "Chances" by Five for Fighting — like the beat to this song. Do you remember the 80s film Chances Are with Cybil Shepherd and Robert Downey, Jr.? This song triggered that memory — You're Welcome!
Five for Fighting will be touring:
10-Nov — San Francisco, CA — Swedish American Hall
11-Nov — Los Angeles, CA — Largo at the Coronet
GIVEAWAY: I have the Five for Fighting CD to giveaway to one of my readers! Leave one comment per entry. Enter now!
– Tell me who you first saw in concert. My first concert was the B-52s in the 80s back at Franklin & Marshall College. The concert was every shade of awesome. I rocked to their songs even though I had barely heard any of the songs! The band's performance was eye-opening to me a recent transplant from England — I had never attended a concert nor experienced anything like the B-52s. I'm embarassed to admit that I arrived at college with cassette tapes of Simon & Garfunkel, Wham, and Duran Duran, which I played on my Sony Walkman — this is an eclectic collection, no?
– Subscribe to this blog via reader.
– Subscribe to this blog via e-mail.
– Fan my blog on Facebook.
I was provided with a downloadable copy of this CD by One2OneNetwork. Giveaway is open to U.S. residents only. Giveaway ends November 20 at 11:59 p.m.