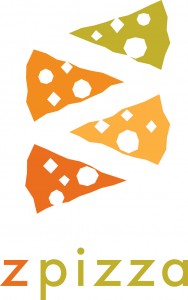 I don't have to be told twice to go try a pizza place, that is for sure. Pizza has been my downfall for years. I can remember my first slice as if it was yesterday…a heavenly single pizza at the Metuchen Fair in NJ when I was about 7 years old. It was round, it was overflowing with sauce, it was yum.
The stars were aligned on Saturday night: I had a zpizza gift certificate burning a hole in my pocket AND we had not seen our friends Mike and Mary in forever. Saturday night found us at zpizza in Rockville, MD.
The wood-burning oven attracted my attention first. zpizza is a simply furnished eat-in restaurant. zpizza offers delivery to locations close to its restaurants. You can order online.
The secret to zpizza is all natural and unique ingredients: certified organic tomato sauce, certified organic wheat dough that is crafted daily, award-winning part-skim rBGH-free mozzarella, msg-free and nitrate-free sausage and meatballs, msg-free pepperoni, vegetables roasted in-house, gluten-free crust, and soy cheese. The website lists nutritional information about each item on the menu.
My mouth was watering as I perused the menu. Pizza is the main offering, but the salads and sandwiches sounded wonderful. But, we were there for pizza — you have to have a game plan!
We decided to order 4 small pizzas. With 6 slices a piece, it was the perfect sharing opportunity. After a little negotiation…"no mushrooms," "let's try something different," "anyone mind Greek pizza?"…we ordered. All 4 pizzas were yummy and very satisfying for 4 adults.
Let's break it down…the pizzas are divided by category…we ordered a pepperoni from the Pizza Standards…loved it! The Greek pizza and the Santa Fe from the Pizza Creations were excellent. The Santa Fe chicken sausage was spicy and super yummy. Our final selection was the Rustica Pizza Pear and Gorgonzola. This was the super delicious — I have never had pear on a pizza before. Same for gorgonzola. Tasty!
By unanimous decision, zpizza was a hit! Want to try one? I have a $20 gift certificate for a DC Metro reader. Here's how to get it (leave a comment for each entry):
– leave a comment with your favorite item from the zpizza menu.
– leave a comment letting me know which MD/DC/VA location you are near (you must be in the DC Metro area to enter)
– follow me and zpizza on twitter (@musingsfromme and @zpizza_dc).
– Send a tweet out about this giveaway: DC Metro residents: enter to win @zpizza_dc gift certificate at http://tinyurl.com/zpizza-dc
– subscribe to this blog in a reader — see right column.
– grab my newly designed button and put on your sidebar — leave a comment.
– blog about this contest and leave the link to your post in the comments.
Did you know that zpizza has a Weekly special? Every Tuesday at DC area locations is: Buy 1 Get 1 FREE any large pizza
If you join ztribe you will receive $5.00 off next visit to zpizza ($20 minimum), click on ztribe.
DC Metro Readers can find zpizza at:
Alexandria, VA – 6328-C Richmond Highway (http://stores.zpizza.com/alexandria-1/ )
Alexandira, VA – 3217 Duke Street ( http://stores.zpizza.com/alexandria-2/ )
Lorton, VA – 9451 Lorton Market Street ( http://stores.zpizza.com/lorton/ )
Springfield, VA – 6699-B Frontier Drive ( http://stores.zpizza.com/springfield/ )
Rockville, MD – 807-H Rockville Pike ( http://stores.zpizza.com/rockville/ )
Contest is sponsored by zpizza and BuzzCooperative.com. Enter by August 18, 2009; 11:59 p.m. This giveaway is open to DC/MD/VA residents only.