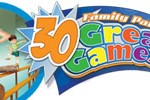 Did you know I'm reviewing games and other electronic gadgets for TheOnlineMom?I don't think of myself as particularly techie. I wouldn't be much help in rewiring a house or fixing an electronic device. But , I can give you — my readers — insight in to whether a computer game, a PS3 game, a wii game, or any other sort of electronic gadget will work for your family. I have an army of trained professionals a kid, a preteen, a teen, and Coach Dad to help me do my job. Just call me an online mom!
I was asked by TheOnlineMom to review Family Party: 30 Great Games Outdoor Fun
. I'm not a gamer myself. Oh, I do play games from time to time, but when I think of spending freetime I don't envision holding a numchuk or a controller. I'd rather read a book, blog, sleep, watch a movie, etc. But, I do care about what games my children play. So, I outsourced my reviewing to the kid, the preteen, and the teen. I'm nothing if not resourceful! Coach Dad was on hand to give assistance.
Now Coach Dad is your man if you want a review of video games. He started gaming with an Atari system in the 80s (Pong)…m0ved on to PC computer games (7th Guest)…purchased a PS2 when he got his PhD (Madden NFL)…dabbles in wii (MarioCart)….prefers the PS3 for loud, aggressive video game action (Kill Zone). The only system we don't have…the XBOX. #dontneedanothergamesystem
Here's the deets about the game:
– Rated E – Everyone – 10+
– Listed as having Mild Cartoon Violence
– 33 Awesome outdoor party games
– Play with up to 4 friends
– Medal system and multiple game play modes
– Proven blend of simultaneous and turn-based games
– Play against human or computer-controlled competition
Here's what the Kid, the Preteen, and the Teen Rating (and Coach Dad) had to say about Family Party: 30 Great Games Outdoor Fun
:
– the Preteen liked the game, but didn't like that only 4 of the games were available. The rest of the games had to be unlocked. Frustrating.
– the Teen thought the graphics were a little subpar. She's used to games like Lego Star Wars with lots of detailed graphics and sophisticated game maneuvers. This game has simple graphics per the teen.
– the kid LOVED it. He thought the little boy character was him. He was invested in the game. One night when I tried to play and could not get the game to start, he was disappointed that I would not get a chance to play. In my nontechie way, I knocked the wii thingie that goes on top of the TV off as I was plugging the wii unit back in — sad thing I never noticed that the wii thingie that goes on top of the TV was missing as I waved the controller in front of the TV. #notatechie
– Coach Dad agreed with my team that the game had simple graphics. Disclaimer: Coach Dad is used to playing NFL Madden and Kill Zone, which are both expensive games known for their exceptional graphics.
At $19.99, Family Party: 30 Great Games Outdoor Fun
is good value. I would buy it as a birthday gift for friends of my children AND my own children. It would make a good Santa/holiday gift for the whole family to enjoy.
After hearing the reports from my "staff", I sat down to watch the game as all three plus Coach Dad had played.
Musings from me on Family Party: 30 Great Games Outdoor Fun
– Once loaded, players can start the game immediately. No complicated setups, just load and play. Anything that slows down a family game is not fun.
– The 4-player split screen is good for family play. My kids will sit around the family room so that each can see his/her portion of the screen.
– The rowing game was super fun to play.
– In the game where 4 players race to a flag on the beach with each successive game, flags are removed creating a "musical flags"-type game. This game was fast and my kid was laughing at the characters on the screen.
I would recommend Family Party: 30 Great Games Outdoor Fun
for families. While the graphics might be unsophisticated, the games are enjoyable and good for ages 6 and up. The rating states that the game is for 10+, but that is because of the "Mild Cartoon Violence."
Thanks to TheOnlineMom for letting my family review this game!