The books are piled. Piled high. Beside the couch. Near the bookcase. In the bedrooms. Mostly on bookshelves. What am I going to do with all these books?
I move books all the time. My Teen's books move from my Tween's room to my Kid's room. A handful of books are considered to be treasures. I save the "book treasures" in a box in the basement for future grandchildren. But, I'm still left with a whole lotta books.
My books from college are my treasures. My husband can't part with his college textbooks. Now the beach novels? I am slowly…ever so slowly purging the beach reads. The process is a slow one for me. Even a book that I read once, but was so-so about is not a done deal when it comes to getting rid of it. I agonize over each book. I'll hold the books in my hand…read the back cover…turn the book over in my hands…consider putting it back on the shelf…but I can't save every book. Some have to go. I never throw books in the trash. Each book is given to charity. A rare handful make it to the consignment basket. I feel good about giving my books a second chance at life.
Books are special to me. I love receiving and getting books as gifts. I have fond memories of looking forward to opening the Christmas present that I knew to be books.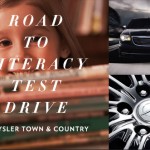 I love hearing about companies that value books as much as I do. Chrysler has a special program going on right now — the Five + Five Road to Literacy Test Drive. When you test drive an all-new Chrysler Town & Country through July 1st, Chrysler will donate books! That's right, when you test drive a 2011 Town & Country, Chrysler will donate 5 books to the school of your choice and donate 5 books to a school in need. That's 10 books in all! Awesome!!
Do you have time to do Five + Five Road to Literacy Test Drive? I'll do just about anything to get a book in to the hands of a child. It makes me sad to think about schools with limited books. Find out more at Chrysler's Facebook page.
I was compensated by Chrysler for promoting this campaign. The views expressed in this article, and my love (!) of books, are my own. I follow the tenets of Blog with Integrity.