ET played in my hometown theater for 6 months. My hometown movie theater had one screen. Occasionally the movie theater was rented out to local theater companies. I'll let that sink in. How many of you live in a town where the only movie theater has one screen? And sometimes the movie theater didn't even show movies! I "think" that at times another movie played at afternoon screenings, but the big ticket, box office draw was ET…for six long months. And I saw ET once! My family didn't go to the movies regularly…obviously. My grandma took my sister and I to see Airplane. My dad and I saw Jaws...haven't been able to watch that movie since. We never saw movies just on a whim at the movie theater.
For the most part, I saw few movies as a child. So you can imagine what a culture shock it was to arrive in the United States for college to find that I was completely in the dark about movies. I didn't know what my classmates were talking about when they mentioned a movie title. If I was asked about Star Wars, Airplane, ET, and possibly a movie or two I had seen on VCR, I was good, except that my classmates had seen HUNDREDS of movies. It was the 80s and the 80s was all about Sixteen Candles and movies of that sort. Plus, practically everyone had Cable TV at home. I was from England and had not heard of cable TV or satellites. And even the VCR my parents had wasn't much help. Have you heard of Video 2000? Hmmm. No, I didn't think so. I wrote about this alternative to VHS and SONY Betamax that just couldn't compete with those two big guns.
So there I was…an English girl on an American college campus who had hardly watched any movies in the theater or watched very many movies on TV or VCR. What rocked is that my college had a Campus Movie Night each Friday. In short order, I got caught up on movies from The Godfather to the Year of Living Dangerously to 9 1/2 Weeks to Weird Science. To this day I'll find a movie from the 80s that I missed watching and absolutely need to see it. Are you a movie-a-holic like me?
And if you are, you will have been waiting with baited breath for these new releases from Disney like me. I foresee many family movie nights at the movie theater and at home.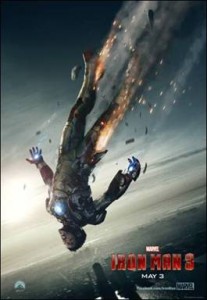 IRON MAN 3 (Marvel Studios)
Release date: May 3, 2013
Like IRON MAN 3 on Facebook.
Follow @Iron_Man on Twitter.
Visit the Iron Man 3 website.
And of course Robert Downey, Jr., was in one of those iconic 80s movies early in his career that I loved so. Do you remember Less Than Zero? It was based on a book by Bret Easton Ellis. Another of my favorite authors was Jay McInerney who wrote Bright Lights Big City starring Michael J. Fox.
A new movie due out that the kids will surely love…I know mine are looking forward to it…is…
MONSTERS UNIVERSITY (Disney/Pixar)
Release date: June 21, 2013
Featuring the voice talents of Billy Crystal — Mike Warzowski, Sulley — John Goodman, and Steve Buscemi, Dave Foley, Julia Sweeney, and more.
Find out how the friendship of Sulley and Mike didn't exactly start out on the right foot.
Like Monsters University on Facebook
And were you a kid obsessed with the Lone Ranger and Tonto? I spent my First Communion money on Lone Ranger's covered wagon. And believe me I agonized over spending my money on these toys. Played with the action figures and horses all the time. Occassionally, I'll search ebay for old toys for sale.
The Lone Ranger — Due in theaters July 3, 2013!
Like The Lone Ranger on Facebook
Follow The Lone Ranger on Twitter
I was not compensated to write this post…just a lover of Disney!