My son is all about his Nerf guns. He hides them on every level off the house. Behind couches. Inside closets. Under the bed. Because you never know when you are going to have to start a war with someone.
My son's motto is "Have Nerf. Be ready."
In the spring my son began his birthday talk. My children like to talk about their birthday from the moment the last birthday ends. Oh and you know how much I lurve hearing about birthday plans for an entire year. Not.
My son was fixated on a Nerf birthday. Was there such a concept? How would I go about a Nerf party? I consulted my offline network of friends. I have a large-ish network in western Howard County. One friend suggested checking out Airmania.
Hmmm. I had heard of Airmania. But, did they have the Nerf Dart Tag? An internet search, phone call with a quick date check and we were set!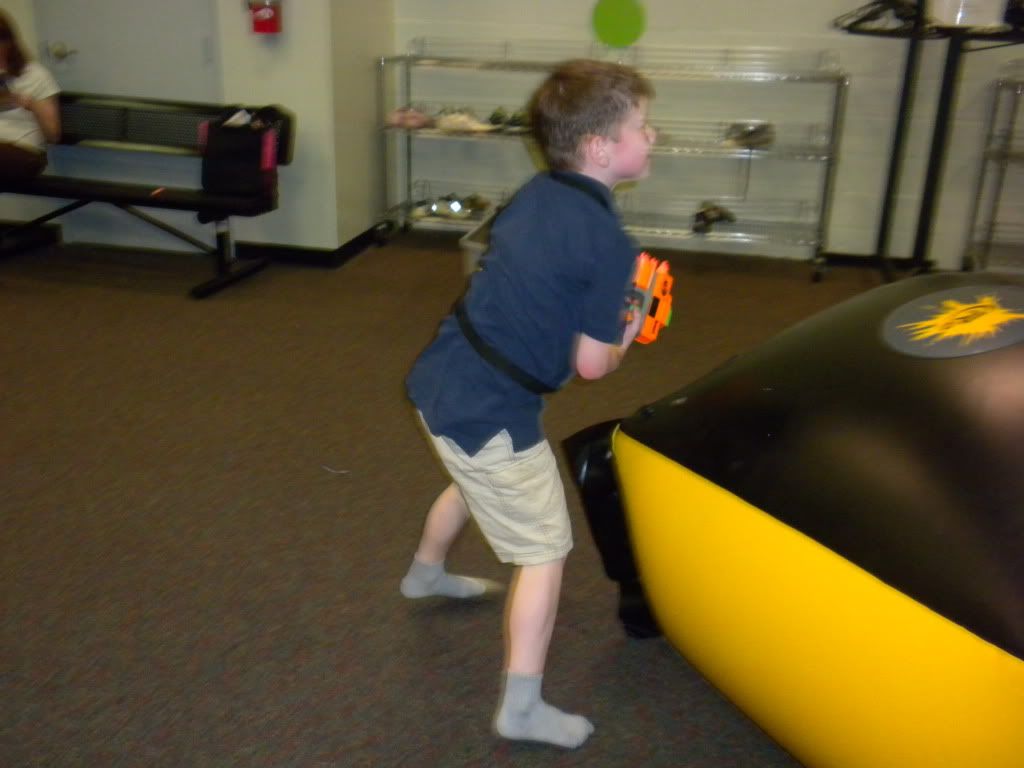 Nerf gun dart wars while jumping on inflatables is awesome for the under 10 set. The above photo shows my son waiting to ambush someone at Airmania. My teen, tween, and their tween cousins had fun, too.
The kids bounced for 80 minutes with 40 minutes in the party room. I chose a weekday party due to our crazy weekend schedule. For the weekend parties, you share the facility with another birthday/party group, which breaks down to 40 minutes on one side of the bounce area with another 40 minutes on the other area.
Airmania is huge — 8-10 bouncy houses/structures plus basketball nets and hockey table. I loved that our birthday party group had the entire place to ourselves!

There was zero cleanup for me as the Airmania assistant supervised the kids while playing and sorted out the cake and juice part. The assistant orchestrated the present opening, too. We left with one tired, but happy boy!
I have one Nerf Dart Tag Capture the Flag Set for one lucky Musings from Me reader! Have your own Nerf Dart Tag battle at home or in your backyard. One comment = one entry. Leave a comment for a chance to win a Nerf Dart Tag Capture the Flag Set.
Required Entry — Leave a comment

– Favorite family game inside or outside. Leave a comment.
Optional Entries — Leave a comment for each entry

– Subscribe to this blog via reader.
– Subscribe to this blog via e-mail.
– Grab my blog button, put it on your sidebar, and leave a comment. If you have a button, let me know and I will add yours to my sidebar.
– Follow me on Twitter.
– Tweet this giveaway: @MusingsfromMe is giving away @NerfNation Dart Tag Capture the Flag set! Enter now: http://tinyurl.com/2cc5w3q!
– Fan me on Facebook.
– Follow @NerfNation on twitter.
– Fan Nerf on Facebook.
I was given the Nerf Dart Tag Capture the Flag for review. The opinions expressed in this review are mine. This giveaway is open to U.S. residents only. Giveaway ends July 14 at 11:59 p.m.