There's a problem with having a house full of readers. You want to know what it is? You can never again have a box, package, or envelope delivered to your house without a child reading the name of the sender or the logo of the product itself written on the box.
Call me an idiot for ordering a large gift for my kids for Christmas that arrived in an enormous box with the name of the item written on the side in huge letters. Doh! And for having the misfortune to drive up the driveway with the three kids in the car and park exactly next to the box. Double doh! Three voices yelled out. "Look, we've got Beatles RockBand!" Triple doh! Well, now. There wasn't much I could say to that.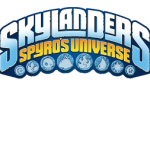 Recently, I let slip that I would be sent a copy of Skylanders Spyro's Adventures. My son had heard me talk about this game around last year's Toy Fair. I was given one of the Skylanders figures, which I gave to him. I knew the gig was up — completely — when my son got the mail, sized up the box…shook it a little, realized what was in the package, and wanted to play right away. He'd done his homework and we were staying home that night. So, how could I say no?
I'm not a video game person. I play Ms. Pacman once a year and occasionally I dabble in a wii game with the family. But, every once in a while I like to sit in the family room and watch the kids play a game. It's like I am playing with them, sitting on their shoulder, having a birds' eye view of the game.
What Is Skylanders?
What Makes Skylanders Different from Other Games Out There?
Want To Learn More about Skylanders Spyro's Adventure?
What's New in Skylanders?
I was sent the Skylanders Spyro's Adventure game to facilitate my review. The views expressed in this post are my own. I follow the tenets of Blog With Integrity.