This post contains affiliate links.

BookBub —BookBub's free daily email notifies you about deep discounts on acclaimed and bestselling eBooks. You choose the types you'd like to get notified about — with categories ranging from romance to mysteries to cookbooks — and BookBub sends great deals in those genres to your inbox. Click image for how to sign up!


Get a FREE car seat canopy (a $49.95 value). Click "Shop Now" and select any canopy you would like. You will automatically be directed to the "shopping bag" where you can enter the promo code "BABYSAVINGS". This promo code will take off 100% of the canopy purchase and all you are required to pay are the shipping fees. You can use the code more than once — you just have to open a new browser/window to do so. Due to its nature, this offer can't last long so please hurry! Click image above to get your free canopy!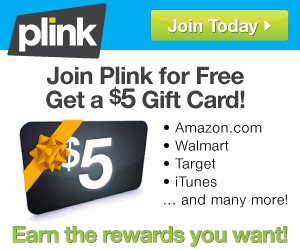 Join Plink for Free and receive a $5 gift card of your choice. Choose a gift card from: Amazon.com, Home Depot, Walmart, Facebook, and more. Once you join you can earn Cash & Rewards just for eating and shopping at some of your favorite stores and restaurants. You'll earn rewards at more than 40,000 locations nation-wide. Free to join. Plink is a registered card program that allows you to earn Plink Points and other online rewards for dining out and shopping offline. You select where you want to eat or shop, and Plink activates those offers on your credit or debit card. It's easy and safe!
Plink is designed so you don't have to carry around an additional card, print out coupons, or use some sort of code to get your rewards. Simply pay with the credit or debit card you register with Plink when joining and we'll automatically give you your rewards. To qualify for the $5 Gift Card, you must be a new user. Valid user information required. Securely and successfully connect any credit or debit card to your Plink account.
Start earning in 3 easy steps:
1) Sign up – it's free!
2) Register your card to get your $5 Gift Card
3) Get rewards when you shop & dine out at your favorite places.