Cuisinart Elite Collection 14-Cup Die Cast Metal Food Processor — $279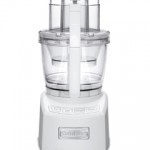 The Cuisinart Elite Collection™ 14-Cup Food Processor delivers the next big innovation for the modern kitchen. With 11- and 4½-cup work bowls nested inside the 14-cup bowl, plus the adjustable 6-position slicing disc and reversible shredding disc, it provides home chefs with multiple food processors in one!
The exclusive SealTight™ Advantage System is designed to deliver maximum bowl capacity and clean processing and pouring. No other processor does it better!
Cuisinart Poweredge 700 Blender — $149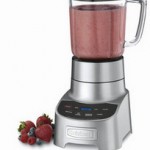 Make tasty smoothies and great drinks or create gourmet soups and sauces with the Cuisinart® PowerEdge™ 700 Blender! The ideal combination of power and performance, it features our new Power6 Turbo-Edge blade design to crush ice, puree and mix with maximum efficiency. The timing will always be perfect with a built-in Count-Up™ Timer, and a great smoothie is just 30 seconds away with the pre-programmed Smoothie function. The 56-oz. blender jar and lid are dishwasher safe for easy cleanup.
Cuisinart Vertical Rotisserie $199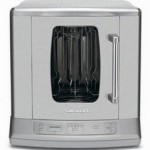 The Cuisinart® Vertical Rotisserie seals in nutritious juices and drains away unwanted fat for healthier meals. To keep the temperature consistent, removable chrome insert reflects heat as the rotisserie turns, and a 3-hour countdown timer with auto-shutoff ensures perfect timing. Cuisinart includes accessories to cook poultry, fish, vegetables, roasts and shish kebabs, as well as a recipe book with even more options!
I don't have any of these Cuisinart appliances, but wanted to share details as I saw them at the #bloggersbrunch.