I am not, I repeat, I am not a techie. I often use the hashtag #notatechie to describe my trials and tribulations with technology.
As a college student DJ, my radio show was called "Technical Difficulties." Skipped records, locked myself out of the studio, broke the sound cart…you name it I did it. At my house I regularly struggle to turn the wii on for the children. I'll say to the kids: "What am I doing wrong?" "Why is the screen blank?" "Do I press Aux 1 or Digi 1 to get the wii to come on?" My children are more techie than I am. One will reach for the 3 remote controls and fix the problem. BTW, 3 remote controls is not helpful if you are #notatechie…I'm just saying…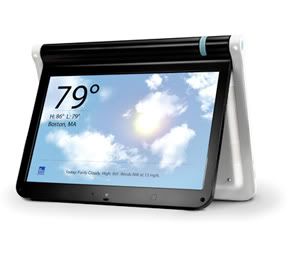 At a recent brand/blogger gathering in northern Virginia, I was surprised — nay shocked — with the depth (for me!) of my computer knowledge. I was chatting to two reps from litl. Annie was explaining the litl to me. She said that the litl is a computer that uses wireless internet. I nodded, but was thinking "wireless?" She went on to explain that the litl does not have a hard drive. My first thought was "no harddrive crashes." But, my second thought was "Where is the data stored if there is no hard drive?" Annie explained that all the data is stored online at flickr, shutterfly, google docs, your e-mail server, etc. I burst out with "Cloud Computing!" I'm sure I caught her off guard. I'm generally either completely disinterested in computer/tech speak OR I nod my head alot and say "ummm" and "aahhh" to show that I understand.

At the drawing at the end of the event, the business cards we exchanged with the PR/brand reps were put in a drawing for some fabulous prizes. Guess what? I won a litl computer!!! You should have seen me juggling a few bags, a plate of food, and trying to leap over other bags to receive my computer! I was shocked when I heard my name called. In the photo above, I look as though I am about to fall on Jordan Newman of litl, don't I?
My next post will explain my first impressions of the litl. What do I think of it so far? I love it…that is when my family have allowed me to use it!
Oooo, I almost forgot! I have a code for you to use to get your own litl computer! Go to litl.com/momdeal by July 1, 2010 to get $100 off a litl webbook! Oh and did I mention that the litl deal includes FREE shipping and a FREE remote!
I was invited to attend the Silicon Valley Moms Blog Brand/Blogger Symposium. I won a litl as part of a drawing. The views expressed in this article are my own.