My son is the youngest in our family…youngest grandchild, too. From time to time I forget what he has and has not done. Are you like me? Do you keep a running list in your head of activities that kids should do?
My list for what kids should do by age 6 goes something like this:
– newborn through 3 — take a photo every 3 months until 1, then every 6 months until 3. I used Sears with good results. Picture People also good.
– newborn and on — naptimes and bedtimes are firm and set in stone and need to be adhered to by everyone who looks after your child. I gave up on naps when I realized that my child was ready to end the nap. I was sad, but I was pleasantly surprised by earlier bedtimes. More me time!
– newborn and on — Read, read, and read. Babies love to be read to. I would read in the family room, bedroom, in the car, in a restaurant while waiting to be served, anywhere. Don't worry if your toddler seems distracted. If she brings you a book to read and then walks off, continue reading to her. She's listening.
– newborn and on — start of collection of musical instruments, store bought…maracas, bells, whistles, drums, castanets…or homemade…put rice or beads in a plastic cup and cover (this craft suitable for 3 and over).
– newborn and on — play with puppets. Start with simple puppets that have sew on eyes and mouths. When children are older move on to more detailed puppets. We have fond memories of watching kids sit behind the couch and do a puppet show for us — precious memories.
– newborn and on — visit attractions in your area geared to families. Your child — no matter how old — will enjoy going places as a family. We visit the following locations in Baltimore on a regular basis:
– 1-year-old and on — library — visit library often, attend storytimes, and special events. For fidgety or noisy children, I would let the child know my expectations going in to the storytime, remind child to use indoor voice, but leave if the child was very agitated. Don't worry — children learn how to be a good listener and come to love the library.
– 18-month-old and on — look in to and sign up for a class…gymnastics, Kindermusik, Fun Fit, Mommy & Me. Classes give the week a focus, plus an event on the calendar is a welcome break from the predictableness of the week AND a reason to leave the house during cold weather.
– 2-year-old and on — outside water play in a kiddie pool or with buckets. Always supervise kids near water. Play Doh on the deck is fun. Painting outside — use a large box or paint on a huge piece of paper attached to an outside wall.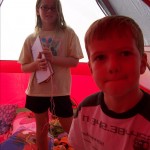 – 2-year-old and on — visit local fun centers geared to kids. In my area, I took my kids to:
PumpitUp in Owings Mills or Elkridge — good for little ones during the day when older kids are at school.
TheLittleGym in Mount Airy.
PlayWiseKids in Columbia — although it look although it looks as though it has closed.
– preschool and on — sleeping in a or playing in a tent in the backyard, pumpkin patch, hayride, corn maze, strawberry picking, apple picking, petting zoo, zoo, farm tours, machinery days, nature center or park.
– 4-year-old — get child a library card and something to store card in, like a wallet.
– 4-year-old and on — water fight with Super Soakers. If playing with a young child, let them know that the spray from a water gun might hurt. We had tears the first couple of fights, but now water wars are fun. Family rule: No squirting near eyes or at face.
– 5-year-old and on — lemonade stand. My oldest was desperate to have one from the moment she saw one in our neighborhood. One cold day in the fall of kindergarten she was adamant about having one. Teeny tiny problem…no cups, no lemonade, and no customers since it was 11:30 a.m. on a weekday. My daughter was not to be deterred and set up a stand selling Jolly Ranchers candy. Her customers were myself and the 3-year-old. Oh, and did I mention that I would not let her sit at the end of the driveway so she had to sit halfway up the driveway. 'on;t worry she could still see that there were no customers coming! She was still excited about having a "lemonade" stand.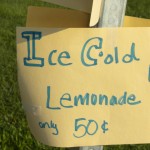 Which brings me to the 6-year-old… He hosted his first lemonade stand ever and made almost $5! His secret: we set up his stand at the stop sign at the end of our cul-de-sac. We used a huge box. His sisters helped him make signs. Quite a few stopped because he looked so cute and enthusiastic — I would definitely stop for a 6-year-old, too. One mom stopped as she remembered her own daughters doing a stand years a