If you read me on twitter, friend me on Facebook, meet me in the corridors of the local schools, or read this blog, you will know that I have MY topics. You know the ones I blog, chat, ramble on about time and again.
I blog about eating dinner as a family. Not that I am a great cook or anything like that. No, I'm fair-to-middling at best. But, eating dinner as a family is important to me so I give it airplay on my blog.
Ditto for any chances I get to involve my kids — 7 yo, 12 yo, and 14 yo — in the same activity. We all saw Tangled and MegaMind…enjoyed a day out at Port Discovery…ventured to Harpers Ferry, WV…whatever it is as long as we are together as a family I'm excited.
Another passion of mine on this blog is online safety. I've been known to chat about online safety at school, too!
Before I ramble on, let me tell you about an awesome contest running at Yoursphere. If your child signs up for Yoursphere by December 15, your child could win a wii, or Rock Band, or Dance Central with Kinect, or a shopping spree at Justice!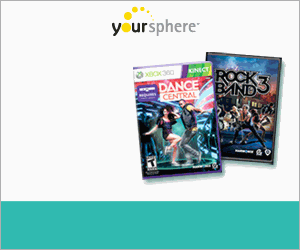 I have been online in one way or another since the early 90s. Back then my husband and I bought a PC that was a custom designed model. It had an 80 MEG HARDDRIVE! We actually had a discussion in the computer shop about whether we would need such a large hard drive!
So much has changed since I had to use a 1oo foot telephone cord to hook up the computer in our spare bedroom to the telephone jack in the master bedroom. Oh and it was dial up back then, too. Just because I had the extension cord hooked up did not mean that I would get online. And once I was online there was no guarantee that I wouldn't be knocked offline. Checking e-mail could take 15 minutes and then there was no guarantee that I would have e-mail. It was the early 90s…how many of you had e-mail accounts back then?
I never thought about the online safety until my oldest was about 8. She was bored with the CD-ROM games and was desperate to get a Club Penguin account. She might have been closer to 9 or 10, but she was young anyway. She begged for an account. A friend gave her a membership to Club Penguin as a birthday gift and the rest was history for my oldest.
She loved Club Penguin. I had it set up so that she could play. She rarely interacted with any other Club Penguin-ers as she was content to dress her penguin, earn points, and decorate her igloo. She soon begged for a Webkinz animal and an account. Soon her brother and sister got in on the act…which meant we had a menagerie of animals overflowing the toy box. It wasn't long before my 5th grader asked to start a website. I had never heard of a blog back then. She started a free webs account.
All was well with her "5th grade newspaper" until she received 1 or 2 and then quite a few more negative, disrespectful, and curse-laden comments. It was with great sadness that I had to shut down the comment feature. She was crushed. Her website languished while she refused to post.
Sometime in her 6th grade year, I saw an ad online for "Yoursphere.com." I'm a clicker so I clicked and the rest is history. I have represented the Yoursphere brand at three blogging conferences. I tweet as @YoursphereMom. I write frequent posts about how I love that my children have a safe place to hang out online that is for them and not for adults. Yoursphere is where I want my kids to be!
To find out more about Yoursphere, go to the parent page.
Yoursphere has a fabulous contest running where your child can win a wii, or Rock Band, or Dance Central with Kinect, or a shopping spree at Justice if she/he joins Yoursphere by December 15!