I have no recollection of when I first used an Advent calendar. I have a vague memory of using a cardboard calendar year after year. The doors would open, then close, but after a few years most of the doors hung open. Then there are the chocolate calendars. My mother decreed at some point that my sister and I both needed a chocolate Advent calendar — behind each door was a tiny piece of chocolate.
When my children were very small we did not have any Advent calendars. We would make a paper chain with 24 loops. We're not super-consistent so some days we would do 3 or 4 loops and other days none. Oh well, all the loops were torn at some point.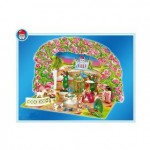 I'm an after Xmas shopper. Love bargains. Love Christmas decorations. Love buying teachers' gifts for end-of-the school year AND next Christmas. I once left Walmart with my cart piled high with glass vases, Xmas balls, placemats, 40 gift bags, and 24 candles. Everyone I passed commented on what I purchased. The funny part is that my teen got in to the whole process. She found birthday party favors for herself, her sister, and her brother.
While at Kohl's for after Xmas shopping, I spied a fabric Advent calendar…kind of like a quilted wall hanging with a fabric package on a string. It was hit. We still do the chocolate Advent calendars. Although there was the year when I could only find one chocolate Advent calendar. We never speak of this Mom faux paus…shudder.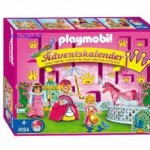 I was given a Playmobil Advent calendar for review. All 3 kids wanted it even though we got the PINK Unicorn edition. No matter the boy still wanted to get his mitts on the Playmobil figures. He is getting the Playmobil Police Headquarters
from his grandparents — lots of boyness there. The girls wanted to arrange the scene over and over again – you add a new figure, animal, or object every day.
The Playmobil Advent calendar consists of a wall calendar with 24 boxes with slip on to grooves in the cardboard. I would not recommend this calendar for the 3 and under set due to small pieces plus little hands + cardboard = ripped boxes. My teen placed each object in one of the cardboard boxes. The boxes were placed on the calendar. Each day one of the kids opened a new figure/animal/object. The calendar is wonderfully detailed. I can see us using this calendar for years to come. I'm wondering how many of our visitors on Xmas Day will play with the scene.
It truly became a family project. Here's how the workload broke down:
the teen assembled all the small/medium/large boxes, plus put the calendar and scene together.
the family sat down to come up with an equitable way for everyone to have a turn. After much discussion we agreed that the kids would open the doors in teen, preteen, kid order.
we decided that whoever opened the door would arrange the scene how they wanted to on that day. No one was allowed to go in an rearrange the scene. I turned a blind eye to scenes with a person stuck in the cage or a unicorn on top of the skyline.
the process worked well. Everyone had a turn.
The Playmobil Advent calendar is available in the following versions:
Unicorn Fairy World
Unicorn Paradise
Xmas in Forest
Police
Pirates
Xmas in the Park
Knight's Duel
The Unicorn Calendar is about $89.95 on amazon since it is new.
I was given the Playmobil calendar for review.