My kids love DVDs of all types. I know, I know, I should be limiting TV viewing. Believe me I do limit TV viewing. I give you. The Musings from Me policy on TV viewing:
No one watches TV before school.
Kids can watch TV for 30 minutes after school before homework, activities, chores, and dinner.
Kids can watch 30 minutes of TV occasionally after homework, activities, chores, and dinner.
Sick days — Kids can watch TV in the morning, but must take a rest in the afternoon.
Weekends are a different story. Kids can watch TV Sat. and Sun. mornings. I don't mind since many weekend mornings kids have swim practice, volleyball tournaments, and soccer games.
Family DVD time is a highlight of our weekend. We watch a movie or two while eating dinner in the family room. Kids love it.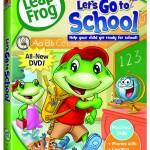 Leap Frog Let's Go to School — Recently Lionsgate partnered with top educational toy brand LeapFrog® to release the first new LeapFrog educational DVD in four years, LeapFrog: Let's Go To School. Beloved characters Tad and Lilly are back and preparing themselves for their first day of class in this all-new DVD perfectly timed to ease the concerns of both children and parents alike on the milestone of starting school. Sure to provide preschoolers with an engaging and entertaining experience, makes learning fun by teaching phonics skills, counting and animals through a new engaging storyline and features five fun new songs. LeapFrog: Let's Go To School is available for the suggested retail price of $14.98.
DVD SPECIAL FEATURES *
– 5 Sing-along songs
– Interactive alphabet book
– A sneak peek at Math Adventure to the Moon
– Target: Ages 3-6 – Running Time: 35 minutes
Giveaway for a Musings from Me reader! Win a copy of LeapFrog: Let's Go to School
by leaving a comment. One comment = one entry. Enter now!
– Do you have a special first day of school tradition? We take photos standing at the end of the driveway waiting for the bus.
– Subscribe to this blog via reader.
– Subscribe to this blog via e-mail.
– Follow me on twitter.
– Tweet this giveaway: @MusingsfromMe is giving away a LeapFrog Let's Go to School DVD! Enter now: http://tinyurl.com/ygwtvd8!
– Fan me on Facebook.
This giveaway is open to U.S. residents only. Giveaway ends December 11 at 11:59 p.m.