Disclosure: I was sent an item to facilitate my review. The opinions expressed in this post are my own. Affiliate links are to my amazon account.

"I review stuff…you know…DVDs, toys, games, books, restaurants. I write about them on my blog."
Every time I say this I get the same blank, nonplussed stare from the person I'm speaking to. I can see the wheels turning. Is blogging a job? What's a blog anyway?! I usually go on to say that I love writing about stuff we love. I can see the person begin to understand what I do. I go on to say that the blog is a great creative outlet for me. Truthfully, 5-plus years ago I would have had the same reaction. I had never heard of a blog, much less written one.
Now I am "all blogging all the time." Or at least it seems that way! For better or worse blogging is the way I make my living. Blogging pays some of our bills. I can set my own hours. Work around the kids and their schedules. I take on as much work as I can, but don't overload myself. And then there's the stuff.
Our home is a regular stop for the Fed Ex and UPS trucks. Every couple of days, the kids will raise to the garage doors to retrieve a box or an envelope and tear in it like there is no tomorrow. I guess you could say the kids are my employees. This is true as I "hire" them to review the stuff we receive in the mail. Often they write up their thoughts on a movie or a game. Or I shoot a video for YouTube showing them playing with a toy. It's a win for all of us. The Musings from Me Family loves to review stuff!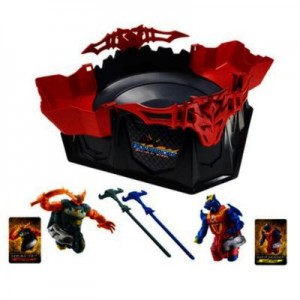 A week or two ago, a package arrived that had my son jumping for joy. Literally. He's a big BeyBlade fan, so when I heard about a Chatterbox from HouseParty.com review of a BeyWarriors playset, I knew who would be my top reviewer. My kid wasted no time tearing in to the box. I even relaxed the "get your homework done before you play rule" for that evening as he was so anxious to play.
He wasted no time setting up the Octagon Showdown Battle Set from the BeyWarriors Shogun Steel line. One of the first things I noticed is that the set was easy to assemble. He pulled the battle arena out of the box. Undid the packaging. Found the BeyWarriors Battlers and got to work. He was playing with the set in under 5 minutes. The hardest part was opening the box!
BeyWarriors is very like BeyBlades only instead of spinning a disk, you spin a warrior with a head, armor, and arms. Very cool! The Octagon Showdown Battle Set comes ready for play with:
Octagon Showdown BeyStadium with 2 Entrance Ramps
2 Ripcords (these work only with BeyWarriors Battlers)
1 Exclusive BeyWarriors Battler — Samurai Ifrit — good for Speed Attack.
1 Exclusive BeyWarriors Battler — RoninDragoon — good for Range Attack.
I watched my son get to battling with Samurai Ifrit and RoninDragoon. It was quite exciting to watch him pulling on the Ripcord and setting the battlers in motion. He even tried battling a BeyWarrior with one of his BeyBlades. It wasn't a fair fight since the BeyWarrior is bigger and of course, has those long arms that become weapons. Here's a YouTube video of one of the epic battles.
Want to learn more about this very cool toy?
Did you know there is a BeyBlade app? I didn't, but you can find the app:
BeyBlade BeyWarriors on GooglePlay.