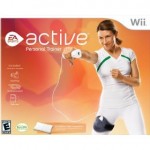 If you've spent any time at all on twitter in the past weeks, you couldn't help but notice the tweets about EA Sports Active and the 30-Day Challengers. It is a new wii game from EA Sports.
From the moment I heard about the game, I. Had. To. Have. It. To find out how I got EA Sports Active AND why I am a nut when it comes to getting the thing that many would consider unattainable, read this: Got EA Sports Active
My obsessive compulsive-ness garnered me 3 copies of the game. No, that's not a typo. I got one to keep, one to give away at a house party (post to follow), and one to give away to a lucky reader of mine. It could be you!
I'm hosting a giveaway for a brand spanking new game on my newly redesigned site. Still have a few tweaks to do here and there with the redesign, but I sigh sweetly when I log on to this site. If you are here for the first time I hope you come back and visit. I'll have more giveaways to come in the next few weeks.
But, back to EA Sports Active… I love this game and it is not because I got a free copy. Nope. I love this game because I sweat buckets when I work out. I've been doing the treadmill/elliptical/rowing machine thing for months if not two years at my local health club and I never sweat like this. I'm talking sweating through a t-shirt sweat.
The workout is something I have never done before. Well, to be honest I did buy a Kathy Smith video (have I mentioned that I am an old fogey mom?) from Borders when my oldest was a baby in an attempt to lose baby weight. The concept was a good one, but the reality was that the TV was either off OR on Sesame Street and the Teletubbies. I just never got around to exercising at home until now.
EA Sports Active is a wii game where you customize your character. You can participate in various exercises guided by an on-screen trainer — a guy or girl of your choice. I chose a girl trainer. She is very supportive and encouraging. My fave activities — in-line skating, kickboxing, and running. There is a 30-day challenge workout, which I tried for about a week, but I prefer to pick the exercises that I know I will do rather than half-heartedly do a workout routine.
If you want to win a copy of EA Sports Active, here's what you can do. Don't forget to leave an e-mail address so that I can contact you.
1. Leave a comment telling me your favorite exercise. One entry.
2. Subscribe to this blog by feed reader. Leave a comment. One entry.
3. Follow me on twitter. Leave a comment. One entry.
4. Tweet about this giveaway using this tweet: Get in shape this summer with #easportsactive. Win a free copy from @musingsfromme http://tinyurl.com/mhb5zh. Leave a comment. One entry.
Not sure you will win a copy. Want a copy right away? Go to Amazon.com
Giveaway open to U.S. residents only. You must include an e-mail address in order to be considered for the giveaway. Giveaway ends: June 25, 2009 at 11:59 p.m.