Earlier in the week I told you about the great deals on pork at Costco. It's also National Pork Month, so Costco members can find a sweet…uh…tasty deal on pork tenderloin and boneless loins.
Until October 28, whole boneless loins are $2.50 off at Costco. And if you want to sweeten the deal, I have a giveaway going as well for a $50 Costco Gift Card! The National Pork Month giveaway ends October 29, so head on over to nab it. To celebrate National Pork Month, you can join me, The Motherhood, and the National Pork Board for a Twitter Party…#PorkParty…today (Friday, October 26, 2012) at 2 p.m. EST. RSVP.
We enjoyed a family dinner where the central ingredient was pork. My husband shopped Costco two weekends ago. My husband — @DadKnowsBetter — is our family's special event cook. Grilling…he does it. Fancy dinners…yep, he is the cook. I'm the daily cook…and I should never be allowed to handle a fancy dinner…just saying… I tasked my husband with cooking a family dinner. I left the details of the dinner up to him…best that I stay out of dinner prep…
Fall is upon us and Sunday is the one night when we are all home for dinner. Every other day of the week…we are busy. BUSY. In fact even on the weekends we have games and study groups and homework and swim meets. My daughter and I were at a swim meet when my husband AKA Dad Knows Better arrived with the boy. They were en route to Costco to purchase dinner stuff for weekday dinners, lunch stuff for school lunches, paper towels, and of course, ingredients for the special family dinner.
As my daughter and I walked in to the house after the swim meet, we could smell the aroma of pork. On closer inspection, I could also smell apples and onions. Yum. Rice and peas finished off the meal. And what a lovely meal it was!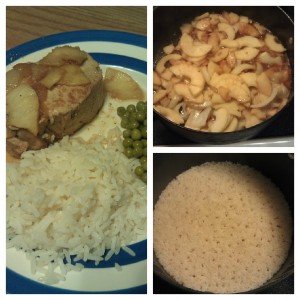 Before he left for Costco, he did a quick google search for pork loin recipes. This recipe from Martha Stewart was his inspiration. Once home from Costco with the items needed for dinner — pork, rice, peas, apples, and onions, he set to work to prepare our special family dinner:
He used the apple corer/sliver to prep the apples.
He cut up the cored/sliced apples in to pieces.
Put the apples in a pan to simmer with just a bit of water.
Sliced onions and simmered with already cooking apples.
In a separate pan, he browned the cut in slices pork.
As the pork reached a light brown, he put in broiler to finish.
Rice and peas were cooked according to directions.
And dinner was served!
We gathered. We chatted. We shared. We told stories. We laughed. We talked about the week ahead and the week behind us. Ah! Love family dinners. Family dinners are a great way to connect. gather your family around the dinner table for a meal…fancy…or simple.
I was compensated to write this post with a Costco gift card from The Motherhood and the National Pork Board. The views expressed in this post are my own. I follow the tenets of Blog With Integrity.