As New Year's Day dawns I cannot help but recall New Year 1995-1996. 1995 seems like years ago as I sit here in the early hours of 2010. So much has happened to our family and me since then.
Some of my new mom readers were probably in high school or college almost 14 years ago! Not that I am an olde fogey or anything?!?
But, getting back to 1995…I was pregnant…9 months pregnant. My first child was due January 3, 1996. During the course of my pregnancy I listened to many of the same questions. The questions ranged from "When are you due?" to "Do you know what you are having?" to "Do you have a name picked put?" But, hands down the most popular question was "Are you hoping for a tax deduction?"
If I was asked this question once, I was probably asked this question 100 times. It is natural to ask expectant moms questions. I'm sure my coworkers, neiighbors, and family friends just wanted to let me know that they were interested in my upcoming life-changing event, but any question asked more that one or two times gets old.
It turned out that my "Will I have this baby at Christmas…New Year's…January??", did not arrive until the second week of January. She made her presence known from the moment of her birth. She howled when the nurses tried to give her the first bath. She screamed during diaper changes. She hated being too hot, too cold, too wet, too thirsty. Today, she is a bright, creative, talented, yet still as fesity as the day she was born allmost 14 years ago.
MomSelect and TurboTax have a message for any moms of December babies…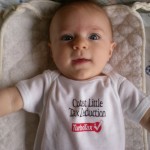 There is still one week left to enter America's Cutest Last-Minute Tax Deduction Contest! Moms of December new babies have a chance to win $5000.
All Moms would agree that the joy that comes from having a new baby is priceless! The sweet sounds of cooing, chubby cheeks and the intimate bond between parent and child can make any family feel rich with love. But, as any new parents can attest, raising children can have an impact on your checkbook, as well as your heart. In fact, the typical family spends more than $221,000 raising a child through age 17.

Because we love to bestow gifts on new moms, MomSelect is thrilled to pass along the news of a fun contest that might lighten the load of one lucky family! Thanks to TurboTax®, one "last-minute" baby will help his or her parents save a bundle.

TurboTax® the nation's No. 1 rated, best-selling tax preparation software from Intuit Inc. is conducting its third annual nationwide search for America's Cutest Last-Minute Tax Deduction. The parents of one lucky baby, born in December 2009, will win $5,000.

To enter, parents or legal guardians should submit a photo of their baby born between Dec. 1-31, 2009, to www.cutesttaxdeduction.com. The deadline for submissions is January 7, 2010. Judges will select 10 finalists, and America will determine America's Cutest Last-Minute Tax Deduction and the $5,000 grand prize winner!
Enter your December baby in "America's Cutest Last-Minute Tax Deduction" Contest!
Further details, rules and eligibility are available at www.CutestTaxDeduction.com. You can follow @TurboTax on Twitter (#TTbaby) or visit TaxBreak, the new TurboTax blog for updates.