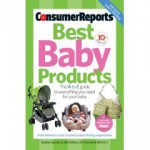 My husband is a Consumer Reports officionado. If he can't find a review — a favorable review in Consumer Reports, then he is not buying the product. Period. The man is militant about CR. I'm a late-in-the-game follower, but realized the necessity of doing research while buying a fridge. Since I was the one who chose the fridge. I was the one who shopped armed with my Consumer Reports. CR was such a good resource in my search for a new firdge.
When I heard about a recent court case involving infant formula (via MomSelect), I was interested. My babies are now 6, 11, and 13, but I well remember the days of breastfeeding AND formula feeding.
I had good intentions of breastfeeding my first baby. I fought the good breastfeeding fight and lost. A combination of first-time mom-ness, inverted nipples, her lack of sucking reflex, recovery from an unexpected c-section, and the knowledge that I had to get my infant on a napping schedule before returning to work after a miserly 1-month unpaid maternity leave all led to my decision to switch to formula. We lasted 1 month before switching to Similac. I did not attempt breastfeeding with my second child due to the reasons listed above, plus I needed to get TWO kids on a nappping schedule when I went back to work. I tried to breastfeed my son, but he was a voracious eater and huge at birth, so we switched to formula before we left the hospital.
I agree that breast is best, but as a mom you have to do what is best for your AND your baby. I recently learned from MomSelect that in a landmark federal court case, a jury verdict confirmed that Mead Johnson, the maker of Enfamil LIPIL Infant Formula, has engaged in false advertising by stating that store brand-infant formulas sold at Walmart, Target, CVS, Walgreens and other retailers, do not provide the same nutritional benefits as Enfamil.
Now I must state that I have no direct knowledge about Enfamil; I used Similac with all 3 babies. Back when my teen was an infant there were very few, if any, store brands, so if not breastfeeding you used Similac or Enfamil.
The jury found that Enfamil advertisements were false and misleading, especially since store-brand formulas have the same nutrients at the same levels as Enfamil. In the process, they have exposed the truth about infant formula: store-brand infant formulas are nutritionally equivalent to, and confer the same developmental benefits as, the more expensive national brands like Enfamil. Buying a heavily marketed formula from a big pharmaceutical company does not get you any closer to breast milk.
So what does this mean to Moms? It means they could have been saving up to $600 a year by using store brand formulas, which cost half as much as Enfamil LIPIL and other national brands. The average mom/dad will spend as much as $2,000 on formula, if the baby only consumes formula for the first year per Consumer Reports. Moms should realize that store-brand infant formulas are nutritionally equivalent to, and confer the same developmental benefits as, the more expensive national brands like Enfamil.
According to Consumer Products Best Baby Products:
Is the store brand a good as the national brand? It has to be. According to the Food and Drug Administration (FDA), all formula marketed in the U.S. must meet the same nutrient specifications, which are set at levels to fulfill the needs of infants.
For more informatio from Consumer Reports on this issue, go here.