Thank God cervical cancer has not hit my family — is all I can say. Cervical cancer is a brutal, unrelenting disease that strikes indiscriminately. Cervical cancer kills thousands of women in the U.S. each year.
I participated in a conference call through SVMoms. I write for DCMetroMoms. The call was informative and touching in a "I don't like listening to such horrible statistics and outcomes, but I need to hear it" kind of way. Silicon Valley Moms Group is partnering with the Pearl of Wisdom campaign as they launch a new program — "Take the Pearl Pledge" — in January for National Cervical Cancer Awareness Month. Are you ready to take the pledge to get screened for cervical cancer? I know I am.
Two women were featured during the call.
Dr. Marie Savard, medical contributor to ABC News, spoke plainly and succinctly about what we need to know about protecting ourselves from cervical cancer. Dr. Savard is the author of Ask Dr. Marie: Straight Talk and Reassuring Answers to Your Most Private Questions.
The second woman on the call was Michelle Whitlock, a cervical cancer survivor and health advocate. She was diagnosed with cervical cancer in her 20s. Whitlock talked about her personal battle with cervical cancer, which made her infertile before age 30. She shared that she just had a baby through a surrogate.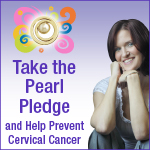 Savard and Whitlock were part of the launch campaign for the Pearl of Wisdom Campaign to Prevent Cervical Cancer. "Take the Pearl Pledge" initiative launched on January 6, in conjunction with National Cervical Cancer Awareness Month (January).
The Pearl of Wisdom campaign wants women to know the facts about cervical cancer prevention — including that it is almost always preventable and wants them to share this information with their mothers, daughters, sisters and friends.
Here's what you can do to show your support for the campaign!
Take the pledge to have an annual GYN exam.
Tell 5 friends about pledge.
Wear Pearl of Wisdom to show support.
Buy a pearl for $6.95 or wear your Grandma's pearls.
Help the Pearl of Wisdom campaign reach 4070 Pearl Pledges – the same number as the number of women expected to have died from cervical cancer in the US in 2009.
Savard shared some statistics and facts that every woman should know about cervical cancer:
1 in 4 girls were found to have sexually transmitted infection. About 25 percent of the time young women will test positive due to abnormal cells, which gives the body a chance to fight off infection. By age 30 your body should have fought off the infection.
5 in 100 women might need more treatment.
New guidelines changes from ACOG on cervical cancer screening:
Don't screen for cervical cancer until 21. Even if young girl is sexually active at a young age, Pap tests in early teens may be abnormal. Avoid treating young women unnecessarily for HPV. Let bodies deal with HPV.
Women aged 21-29 should get a pap test every 2 years. It does take a number of years for HPV to go from infection to cancer.
Women ages 30 and older. Get pap test every 3 years if woman has had 3 normal pap smears. Your OB/GYN should give you te option of doing pap tests along with HPV test. HPV test is more sensitive and will give women "tremendous piece of mind."
A few of us on the call were moms of tweens and teens. Savard answered our questions on Gardasil by recommending giving vaccine to girls before girls are exposed to 4 strains of infection. Don't wait until your daughter is sexually active to give Gardasil.
Giveaway for Musings from Me readers! I was given a Pearl pin for my participation in the conference call. I have 5 Pearl of Wisdom pins, the global symbol for cervical cancer prevention, to giveaway to my readers. One comment = one entry. Enter now!
– Tell 5 friends about the Pearl Pledge. Leave a comment.
– Follow NoCervicalCanc on Twitter.
– Follow Pearl Pledge on Facebook.
– Subscribe to this blog via reader.
– Subscribe to this blog via e-mail.
– Grab my blog button, put it on your sidebar, and leave a comment. If you have a button, let me know and I will add it to my sidebar.
– Follow me on Twitter.
– Tweet this giveaway: @MusingsfromMe is giving away 5 Pearl pins from @NoCervicalCanc! Enter now: http://tinyurl.com/yacltxt!
– Fan me on Facebook.
I was given a Pearl Pledge pin as a thank you for getting the word out about this campaign. This giveaway is open to U.S. residents only. Giveaway ends January 13 at 11:59 p.m.