Dogs. Bears. Cats. Pandas. Horses. Bunnies. Dragons. You name an animal. Build a Bear probably has it! I know because we have a collection of BABW furry friends strewn around our house.
BABW furry friends make the perfect toy for all ages. My little guy clutched his Elmo by the ear when he was not quite 2. My tween favors any of the glam and glitzy BABWs. My teen has various creatures in her bed — shhhh don't tell her I said this!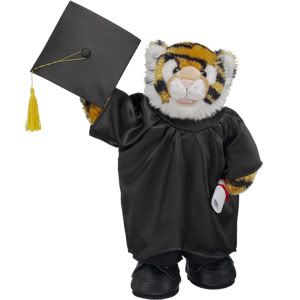 BABWs make a great gift for special occasions. My daughters were 7 and 4 when our son was born. I knew both girls would immediately fall in love with their baby brother. I never worried about jealousy. I wanted to buy each of my daughters a gift before the baby arrived. I wanted to make the arrival of a new baby in our family a special one.
I liked the idea of all four of us going to BABW on our last outing as a "family-of-four-soon-to-be-five." I knew that I did not need to buy toys as the baby boy was unlikely to want their Barbie/Disney Princess/girlie toys. I just wanted to give the girls something to commemorate the arrival of their brother to our family.
We have a milestone coming up in our family. Our teen "graduates" from 8th grade. Technically, she will have a transition ceremony. Graduation. Transition. Even graduation from preschool! Whatever you call it. Family milestones are a reason to celebrate.
My friends at BABW told me about a line of furry friends specially designed for spring and summer happenings:
Graduation — BABW has a selection of cuddly stuffed animals dressed in items including: a black or white graduation gown, mortar board with tassel, dress clothes, a Class of 2010 sash, and a "Pomp & Circumstance" Sound. The graduation sash or robe can be embroidered with your child's name for an additional charge of $10.

Father's Day
Armed Forces Day — Choose from camo sailor bear, Marine Hero Champ, Air Force curly teddy, Army office teddy, to name a few.
Wedding and Bridal Shower
I have a special giveaway for Musings from Me readers! I have one $25 BABW Gift Card to giveaway. One comment = one entry. Enter now!
What was your favorite stuffed animal/toy as a child? Leave a comment.
Subscribe to my blog via reader. Leave a comment.
Subscribe to my blog via e-mail. Leave a comment.
Friend me on Google Friend Connect. Leave a comment.
Fan my blog on Networked Blogs. Leave a comment.
Fan my blog on Facebook. Leave a comment.
Follow me on twitter. Leave a comment.
I was given a bear as part of my review. The views expressed in the article are my own. The giveaway is open to U.S. residents only. The giveaway ends May 31, 2010, at 11:59 p.m.