I have new next door neighbors who have a 4 year old, 2 year old, and a baby on the way. I saw them the other evening just walking up and down the driveway while the kids played. The mom and dad were strolling. One walked with a hand resting on the handle of a ride-on toy. Dad walked beside the older boy. No rushing. No hurrying.Ahhh, I remember those days. I remember them like they were yesterday.
Though I am happy where I am at, I would love to go back to those days where the calendar was empty save for a playgroup and a doctor's appointment. Where I was only in a rush if I was late. Where I could easily skip the tiny tykes gymnastics class since my child didn't have a grip on time. I could always fudge a little and say "we'll go soon, sweetie" and my little one would be satisfied.
Now, my schedule is completely dominated by activities. My calendar needs a sub-calendar to accommodate all the various and sundry practices, school events, concerts, and more. As I said, I'm happy where I am. I wouldn't return to the days of bottles, tantrums, diapers, and a sleepless nights for all the tea in China.
From time to time, I like to take a little trip down memory lane to remember those days.
Halloween 2005 — Unicorn, Devil, and Bob the Builder
Unicorn sorting her candy!
Bob the Builder not sure what to do with all his candy.
The elementary school Halloween parade! I'm going to my last parade next month. Wow! I've been going to parades since 2002!
Bob was not pleased with his mode of transportation for the parade…he wanted to run wild and free
But, he did like the candy he got at the Senior Center!
And then there was the tiny tykes gymnastics class…a highlight of his week. He didn't do exactly what the teacher told him to do in the class, but once we were home he would perform that tricks!
Oldest used to always pick "teeny punkin," but by age 8 or 9 was more in to finding a pumpkin that she could carve.
Littlest still only wanted a "tiny punkin" and DID NOT want to carve it!
Middle was very particular about what kind of face she wanted on her "punkin."
School Halloween Monster Bash!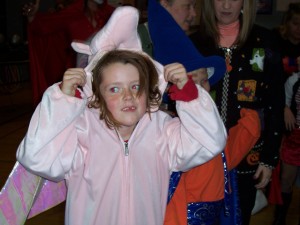 It was safer for dad to hold the littlest than let him get trampled by older kids!
Even unicorns dance with their dads!
The Musings from Me Family Halloween Trio!