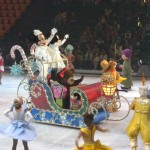 Some observations about Disney on Ice:
– I am grateful for the free tickets from MomCentral.
– I love being a local and online promoter of Disney on Ice.
– I saw the tweets of my winner — she had a great time with her family. This makes me happy!
– I WISH I had taken my preteen and teen to see Disney on Ice when both were in major Princess mode — around 3 through 7. Nevertheless both girls enjoyed the show, especially the ice skating.
– My son was a little perplexed by all the Princesses. He had fun watching Toy Story — particularly the Green Army Man and Hamm!
– Even I was excited to see the newest Disney princess, Tiana and her Frog Prince!
– I thought the show was very good. Dancing was good. Equal time on the ice for all the Princesses. A thoughtful storyline about celebrations culminating in Christmas. Clever use of the corners of the stage to store furniture used on stage.
You're probably wondering about the "No Souvenir" thing, aren't you? About a week ago, I finished up Day #3 of the Great Bedroom
Declutter
of 2009. It wasn't pretty. My girls weren't happy with me. The bedrooms are very clean and debris free. Now to keep the bedrooms clutter free.
I made a decision that as a family we would not purchase any souvenirs. I have to tell you it was awfully hard to resist the lights, penants, and necklaces, but we did. I'm proud of our family.
Interested in attending a Disney on Ice
show
in your area?