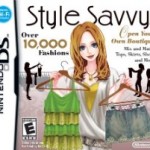 My daughters love the Nintendo DS. It was the top item on my preteen's christmas list a year or two ago. The teen couldn't keep her hands off her sister's DS, so she got one for Christmas the next year. The kid was about 4 the year he got a handheld game. No, I didn't get him a Nintendo DS — I'm not certifiably insane! My son was still not very careful when holding pricey items, so I bought him a Leapster handheld game instead. He loved it! When the girls played their DS, he played his Leapster. Win!
I saw this game and immediately thought of both girls…
Style Savvy
is a fashion-based simulation and social game for Nintendo DS and DSi that allows players to build unique styles with their stylus. The game features:

– Challenge up to four players via local wi-fi
– Work it in 16 different in-game designer labels
– Discover more than 10,000 items
– Unlock additional designers and apparel
Style Savvy will be released on November 2. Preorder here.