The other night I was driving my son home from karate. It was 8:30 p.m. In my head I already had him showered, pajama'd, read to, and tucked in bed. I could see the evening stretch ahead of me. But, then I had a thought.
My thought was fireflies. We had not hunted for fireflies yet. So I had the warring thoughts of "early bedtime" jousting with "it's summer…stop being so rigid."
As we pulled up the driveway, I leaned back and said "How about hunting fireflies?" He was thrilled. The thoughts of the neat and tidy early bedtime were replaced by the hunt for bugs using new Backyard Safari Outfitters Bug Wrangler's Extreme Suction Bug Vacuum.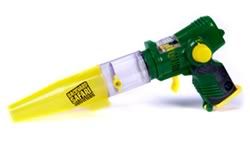 Whew, that's a mouthful, isn't it? But, I was intrigued by how the Backyard Safari Bug Vacuum would work. How would it suck up the bugs without hurting the bugs? Would my son be gentle?

I listened as my son assured me that he would not hurt any bugs. He told me that he planned to suck up the bugs carefully and then gently release them. I must admit that in the past we have caught fireflies with our hands, trapped them in the bug catcher, and forgotten about them until the next firefly expedition. Poor little bugs.
This time we were a well-oiled machine. I chased after the fireflies with the bug net. My son found the fireflies more easily with his eagle eyes. He sucked up his fireflies with the Bug Wrangler's Extreme Suction Bug Vacuum. I swatted at mine with the bug net. Between us we caught and released about 7 fireflies.
Once sucked up in to the Extreme Suction Bug Vacuum, the fireflies glowed brightly. My son swiveled the magnifier to see the fireflies more clearly. We released all of the fireflies by opening the vent on the Bug Vacuum.
Our successful night back to nature ended with a rabbit hopping through our yard!
The Description:
Backyard Safari™ Outfitters the Bug Wranglers Extreme Suction Bug Vacuum
There are THOUSANDS of crawling, flying, buzzing bugs in your backyard – catch them LIVE with your Bug Vac! Look at bugs UP-CLOSE with built-in magnifying Glass! CAPTURE CORE attaches to the Bug Habitat (sold separately) for easy transfer of your insects.
The Features:
2 CATCH & RELEASE CAPTURE CORES WITH BUILT IN MAGNIFYING GLASS
PLUS: EXTRA NOSE CONE FOR THE REALLY BIG BUGS
Who Is It for:
Age 5 & Up
Price:
$19.99
Where can you buy the Backyard Safari™ Outfitters the Bug Wranglers Extreme Suction Bug Vacuum: Summit Toys. Amazon.com has another Backyard Safari Bug Vacuum model for $26.
I was given a selection of Backyard Safari toys for my children to play with. We also received a Backyard Safari Cargo Vest with umpteen pockets and a Backyard Outfitters Land & Water Mega View Periscope. The Periscope is a hit with all the kids…including the teen. She has taken to using it to see who is watching what on TV or who is downstairs in the hallway while she is upstairs. I love it when older kids find something fun in a new toy. And yes, my tween decided she needed to use the Cargo Vest as part of a costume for a play she is writing. Crazy kids + free time + summer = creative summer fun ideas