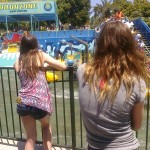 In true Musings from Me fashion, last year's summer vacation was thrown together at the last minute. I knew I was going to BlogHer, but the details were very sketchy.
At the beginning of July, all I had was a ticket and a hotel room. By the end of July, I had decided to bring my family, had purchased 5 plane tickets, booked a hotel for the LA leg of our trip, and designed a pretty awesome itinerary for our whirlwind trip. And by "I" I actually mean my husband who has been the planner behind some pretty awesome vacations since the late 80s. That my friends is how the Musings from Me family plans a trip. Quick.
If you have been following our Travel Story, you'll recall that on Day One, Two, and Three of our trip to So Cal, my husband and the three kids were a merry band of sightseers taking in all that San Diego had to offer. I, on the other hand, was having the time of my life attending keynotes, walking the Expo Hall, party hopping, and meeting old and making new friends at BlogHer.
I joined the family on Day Four for Legoland. After 3 days of missing family fun, I was so ready to go to Legoland. Everything about our day at Legoland was awesome…simply awesome. As a family of Lego builders, Legoland was right up our alley.
Entering thru the gates was the culmination of the hope that someday we would get to see Legoland…we were not disappointed. Some highlights from our very packed day…
Our first stop was the Lego City Clutch Powers 4-D Adventure Show–my son loved it!
Next stop: Rides!
We rode the Lego Technic Coaster. Quick ride, with lots of tight turns. Riders need to be 42″ tall.
Some of us…AKA those who don't mind getting wet…rode the AQUAZONE Wave Racer. Great fun, especially for me as I stayed on dry land! Riders must be 40″ tall to ride.
Another wet ride, but not-very-scary was the Treasure Falls. Riders must be 36″ to ride. My son persuaded his sister to ride with him. Cute!
The kids loved Splash Battle…even though passersby fired at them with water cannons! Riders must be 36″ tall to ride.
After a few "get wet" rides we needed something low key. The Royal Joust was just what we needed. While my husband and I watched our son, the girls walked to get Granny's Apple Fries. These fries were SO GOOD!
Love the Tea Cups, then you'll love the Bionicle Blaster. Riders need to be 42″ tall. Parent Swap available if only one child meets height requirement.
The only ride we had to wait in line for was the Lost Kingdom Adventure. Great ride, but probably best to ride it close to park closing time to avoid the long lines earlier in the day. Very Indiana Jonesy. Riders must be 34″ tall to ride.
From spinning you can venture on the Dragon. Riders must be 40″ tall to ride. Riders below 48″ must be accompanied by an adult.
Mid afternoon we took a break from rides and visited Miniland. The Lego models in Miniland were the highlight of my day. My teen and I stayed in Miniland taking in the intricacies and details of the models. Star Wars had its own area with scenes from each of the movies.
While the teen and I toured Miniland, the kid and tween got their Legoland Drivers' Licenses at the Volvo School of Driving. Big smiles from these two!
Even though it was August, it was a tad chilly to visit the Legoland Water Park. The Sea Life Aquarium looked fun, but we ran out of time.
You can visit all 3 parks with the Resort Hopper. Or visit Legoland and the Water Park with the Water Park Hopper. Or mix it up and go to Legoland and Sea Life with the Sea Life Hopper.
Don't forget to follow @Legoland_CA for more news. Or fan Legoland on Facebook.
I was given two Legoland Resort Hopper Passes to facilitate my review. I had a coupon from a DVD for one child's ticket. I purchased 2 passes for my daughters. The views expressed in the post are my own. I follow the tenets of Blog With Integrity.