As the mom of two former 3rd graders and one future third grader, Phillip Done's Close Encounters of the Third-Grade Kind was spot on. Done, a veteran teacher, wrote the book as a how-to guide for his niece. His booklet morphed in to Close Encounters of the Third-Grade Kind: Thoughts on Teacherhood
.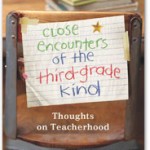 Done's observations are hysterical. I have absolutely heard kids tell the teacher that her socks are cute or that his tie is crooked. Third graders have no filter. They say whatever comes in to their mind at that precise moment. No thought given to whether someone will offend. Third graders just want you to know that you have circles under your eyes or that shoe is dirty.
Third grade has been a pivotal year for my children. At my oldest's third grade parent-teacher conference I was struck by how little information the teacher gave me about my daughter as a person. There were no funny anecdotes and amusing stories that I was used to hearing from the K-2 teachers. Now don't get me wrong, the teacher's report on my daughter included a spreadsheet on her reading comprehension skills and a detailed analysis of her strengths and weaknesses in math. But, the warm and fuzzy was missing.
Third grade (in Maryland at least) is all about teaching test-taking skills and moving from "learning to read" to "reading to learn." My daughters seemed so much more mature at the end of the school year than at the beginning.
In third grade, my middle daughter's teacher presented us with information about our daughter which led to a diagnosis of ADHD. I am thankful for that teacher's insight and observation.
For one daughter, the third grade teacher tested the patience and listening skills of the students with the class gingerbread project. The teacher spent weeks making gingerbread houses. The kids brought in candy to decorate the houses. There was only one rule…the kids were NOT allowed to eat a single piece of candy until the end. All the kids did so well, but at third grade I know I would have sneaked a piece or two!
I loved that Done set up Close Encounters of the Third-Grade Kind
in chapters by months of the school year. Every chapter had me exclaiming over something. December is Mug Month for teachers. Ha! I try to avoid giving mugs as holiday gifts, but if a mug set is on sale at Walmart, well I can't resist buying it for the kids' teachers!
Show & Tell is a universal in school. I'm not certain my kids had Show & Tell in third grade, but I laughed at Done's descriptions of some of the items the kids brought in to show their classmates. I remember a little boy in my daughter's class who brought in Pokemon and Pikachu action figures every week without fail. Our close proximity to farm life was evident the day a kid in my middle daughter's class brought in a baby lamb. Someone else had tadpoles. Another kid brought photos of her baby goats.
I have a copy of Close Encounters of the Third-Grade Kind

available for a Musings from Me reader! I was sent an extra copy from the publisher…sshhhh, don't tell it's our little secret! One comment = one entry. Enter now!
– What is your most vivid memory from elementary school? I remember carrying a cold lunch tray with hot lunch tray on top of it back to my classroom as the school did not have a cafeteria.
– Subscribe to this blog via reader.
– Subscribe to this blog via e-mail.
– Follow me on twitter @musingsfromme.
– Tweet this giveaway: @MusingsfromMe is giving away a copy of Close Encounters of the Third-Grade Kind to a lucky reader! Enter now: http://tinyurl.com/ylj6nmx!
– Fan me on Facebook.
– Fan the author on Facebook.
Silicon Valley Moms Group and the publisher provided me with two copies of this book. This giveaway is open to U.S. residents only. Giveaway ends December 11 at 11:59 p.m.