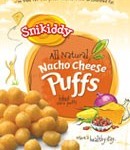 There are snacks and then there are SNACKS. I prefer SNACKS to snacks any day. A SNACK leaves you satisfied and happy, while a snack leaves you with the feeling that you shouldn't have wasted those precious calories.
Snikiddy is a SNACK. I got the chance to sample the Snikiddy Grilled Cheese Puffs, the Mac n' Cheese Puffs, and the Chocolate Chocolate Bites. All I can say is. Yum.
Snikiddy® is a brand of great tasting, family-friendly snack foods made from simple, wholesome, and real ingredients.
Here's a few ways to connect with Snikiddy: go to Snikiddy to get a $1 off coupon.
Follow on Facebook: http://www.facebook.com/pages/Snikiddy-Snacks/
Follow on twitter: www.twitter.com/musingsfromme
For one lucky reader, I am giving away a Snikiddy sample pack. For one entry:
– Leave a comment on your favorite place to eat a snack. My fave place: Munching snacks at the pools while watching the kids swim.
– Follow me on twitter. I'm @musingsfromme. Leave a comment.
– Sign up on Google Reader or other reader. Leave a comment.
For a bonus entry:
– Sign up to be a fan on the Snikiddy Facebook page. Leave a comment.
– Follow @snikiddy on twitter. Leave a comment.
Also, the first 5 readers who to go to Art fill out a contact form, and put "MusingsfromMe" in the "Subject line" will get an art kit. Everyone that clicks through will receive a $1 off coupon.
This contest is open to U.S. and Canadian residents. The contest will end Monday, August 3, 2009 at 11:59 p.m.
On your mark, get set, GO!!