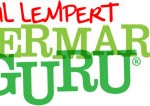 I love Phil Lempert's style. It's no nonsense. He tells it like it is. If Phil endorses a product I know it is a good one.
I tuned in to a free webinar at the beginning of September. Is it me or does September 2 seem like months ago? It does to me. I can hardly believe it is nearly Halloween. But, back to the webinar…Phil gave out tips for making school lunches more nutritious and less expensive.
His tips:
– Plan meals — which means Shop often.
– Prepare healthy afterschool snacks — this one is hard for me as my kids tend to ask for a snack when I am helping someone with homework. can you say distracted!
– Read labels while shopping.
– Juice boxes can be expensive. Try reusable water bottles.
My top lunch suggestions:
– Vary lunch choices. I don't send sandwiches each day. One day I send yogurt, the next a sandwich, the next soup. Variety!
– I keep a stash of PBJ Uncrustables in the freezer. Truthfully the kid, the preteen, and the teen do not care for Uncrustables, but for me it is a "Help, we're got up late lunch choice."
– I let my kids buy lunch about once a week. I'll either choose the day or I will decide what day works better for me. We keep the lunch menus on the fridge.
– When in doubt add a variety of items to the lunchbox — yogurt, cheesestick, pudding. fruit, drink.
– This is one area I am working on…have kid put their lunchboxes on the counter AND remove any food items AND replace ice pack in the freezer. We're in the early stages of implementing this one. I'll let you know how we do.
Do you have any ideas for lunch choices? Is there an item that is your go-to- it selection? Leave a comment.