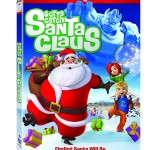 Here at the Musings from Me home…we love movie night. With a kid, a preteen, and a teen, I am often stumped for what to do as a family. For movies in the movie theater, we have to see two different movies. While the kid and the preteen are happy with the zoo, the teen is up for more of a spy type of adventure. Hard to please everyone all the time or someone some of the time or well…you get the idea.
Now a DVD, especially a holiday DVD is more a sure fire hit in the Musings from Me household. Rambunctious kids love holiday DVDs. Pouty preteens give a thumbs up. Even surly I'm-too-old-for-cartoons love. With the holiday season fast approaching we spent a cozy evening watching Gotta Catch Santa Claus. While we didn't drink hot cocoa or wear our matching Santa Claus hats, we did have a fun time as a family. And, that my dear readers is all that counts in the Musings from Me household!
We're on the go from morning til night with elementary school, middle school, homework, volleyball, swim practice, soccer games, gymnastics, middle school dances, fall festivals, and not to mention Mom's "job"* and Dad's job. Phew…just writing our schedule out makes me anxious and twitchy. Family time is golden.
Wondering what the movie is all about? Here's a sneak peak:
The movie is a departure from the Christmas shows of my childhood. This new CGI animated DVD Gotta Catch Santa Claus — featuring William Shatner as the voice of Santa! Scheduled to be broadcast nationally on ABC Family during their annual "25 Days of Christmas" programming block, this funny and exciting new film is enjoyable for the entire family and features six fun new holiday songs.
Stay tuned. I may have a giveaway scheduled.
* I used an asterisk as I still see my job more as a hobby than a job. I treat it with the seriousness of a paid job even if most of my work is done for products.
I was sent a copy of Gotta Catch Santa Claus
for review.