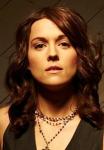 Editor's note: I'm posting this review while multitasking. Don't be surprised if this review goes in all different direction like me!
Can I say how much I heart One2OneNetwork? I'm a blogger reviewer. Occasionally I even get to do a giveaway. I know how much I love winning something new and exciting. So I know my readers out there love it, too! Bonus — I love telling my readers something new!
I love that I get to review AND giveaway Brandi Carlile's Give Up the Ghost
. I'm listening to it again as I write this post. It's a good one! Just tweeted that I was listening and liked it — got a tweet back from @ohmariana that she likes it, too! You see I told you I would be all over the place. Wait, must check to see if I got an e-mail I'm waiting for…BRB
I'm back! e-mail is in and now I get to take the kids to a fun event this weekend!
I'm not a music reviewer so I lack the jargon to adequately describe Brandi Carlile's Give Up the Ghost
. But I can tell you that I like the heartfelt-ness of her songs. You can tell she puts her heart and soul in to the music. Checking to see if she writes all her own songs. Be right back…
Yep, she's a singer-songwriter. She toured with toured with Ray Lamontagne, Dave Mathews Band, and Sheryl Crow. Crow raved about Brandi's live performances — "She has the most amazing voice I may have ever heard. Perfect in every way and propelled by taste."
Loved the sweet, lightness of "If There Was No You." This song gives me the vibe that she is singing to me or in a tiny club. Come to think of it, I'll bet she would be so good live. I'll check on her show schedule…
Listening to "Oh, Dear" while waiting for concert tour site to load — tour will stop in Miami and Seattle. BTW I don't like "Oh, Dear" as much as the other songs, but that's because it sounds like she is singing on two tracks of the song — singing lead and backing vocals…a little distracting.
Switching gears to listen to "Dying Day" — now that is more like it — it's an anthem like song. Love them. Were you a young adult in the 80s? I loved a good sing-along-able anthem — Brandi's version makes me want to sing along in a really loud voice *in the privacy of my dining room while kids are in school*. I'm not a singing in public person…Are you? I've never done Karaoke in public. Never.
And now for the GIVEAWAY portion of this post. To enter the giveaway for a downloadable copy of Brandi's CD, leave a comment for one or more of following:
– Go to http://www.brandicarlile.com/ and tell me what you looked at. Leave a comment.
– Follow me on twitter: @MusingsfromMe
– Subscribe to my blog or signup for e-mail.
– Friend my blog.
– Go to Brandi's YouTube and watch a video. Leave a comment with the name of the video watched.
– Friend Brandi on Facebook.
– Friend Brandi on MySpace.
I was given a downloadable version of the CD to review. This giveaway is open to U.S. residents only. Giveaway closes October 30 at 11;59 a.m. EXTENDED TO NOVEMBER 4!