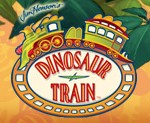 One of the perks of being the kid, preteen, or teen offspring of a mommy blogger is getting to review stuff. My kid, preteen, and teen will fall over each other to get to the front door to bring the latest package in. It's good to see that I am not the only one in the Musings from Me household to get excited over getting a sneak peek, first glance at something.
When the Dinosaur Train sneak preview DVD came in the kid was chomping at the bit to review it. In kid-speak, "Give me the DVD so that I can watch TV — pronto!" He scampered off to the basment playroom to watch this new show. He's a big first grader now, but he would have loved this show when he was in preschool. It has his two top favorites — DINOSAURS and TRAINS!
Now don't get me wrong he loves to watch Dinosaur Train — it is just that with elementary school, homework, swimming, and soccer he does not watch as much TV as in his preschooler days. I can just hear him now "In preschool, I got to watch TV ALL THE TIME, Mommy!" — insert puppy dog eyes and a pout.
Check out the Dinosaur Train site for video clips, games, Field Guide, and printable coloring sheets to enhance your child's enjoyment of the show. Have a look at the Alphabet clip. Enjoy!
Now showing on PBS stations throughout the U.S. Here's the schedule for MPT.
I was sent a preview DVD to review.