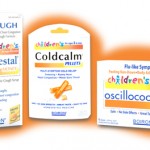 I saw a sign for Oscillococcinum at the recent TypeAMom Conference. The word jogged my memory back to an old commercial where an older lady carefully enunciated the word for a friend. She did a good job because I knew how to pronounce the word when I wandered near the Boiron booth at the TypeAMom Conference.
Boiron, the world leader in homeopathy, poses the question: How do you keep your family on well this cold and flu season. With all the germs flying around this time of year, how will I keep my family safe?
Here's my plan:
– Fanaticism about handwashing. Sing ABC song or whatever you need to wash every part of your hand with anitibacterial soap.
– When someone is sick in our household, I spray all doorknobs in the vicinity of he sick child with disinfectant spray.
– Change towels and bedding more frequently.
– Encourage kids to use mouthwash.
Boiron is introducing three new homeopathic medicines for kids: Children's Oscillococcinum®, Children's Coldcalm Pellets®, Children's Chestal®. Want to try a Boiron children's product, click for $1 off coupon!
I picked up several free Boiron samples at the TypeAMom Conference. I plan to use them as the cold and flu season progresses. As a participating blogger in this campaign, I will receive a sample pack as well.