I have mentioned before that our family watches movies. Not every day or even every weekend. But, when we have an hour or two when we are all home we load up the DVD player, park ourselves in front of the TV, and watch the latest movie.
Movie watching brings us together. With two adults and three school-aged kids of varying ages, we crave activities that we can do together. Watching movies at home or at the movies is a good option for us. But for 5 of us to go to the movie theater is expensive, so we most often watch movies at home.
I recently heard about a cheap way to rent movies using Blockbuster Express kiosks. I wrote about it here. Blockbuster Express kiosks are popping up everywhere…go here to find one near you. Go to Blockbuster Express to pre-order up to 3 DVDs at a time on to pick up at a kiosk near you.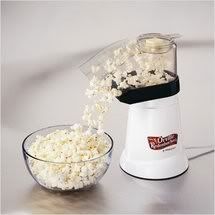 What is movie night without popcorn? I'm giving away an Orville Redenbacher Hot Air Popper. Follow the instructions below for a chance to win the Orville Redenbacher Hot Air Popper.
The Presto Orville Redenbacher's hot air popper pops regular or gourmet popcorn with hot air, not oil for a low calorie treat. Makes up to 18 cups of popcorn in under 2-1/2 minutes leaving virtually no unpopped kernels.
Features:
Makes up to 18 cups of popcorn with air, not oil for a healthy treat
Butter melter doubles as a handy measuring cup
1-year limited warranty
1440 watts of power
14"h x 9"w x 6.5"d
For a chance to win:
1. Sign up for the Blockbuster Express e-mail to get coupons and promo codes. Leave a comment.
2. Follow Blockbuster Express on twitter. Leave a comment.
3. Fan Blockbuster Express on Facebook. Leave a comment.
4. Tweet this giveaway: Win am Orville Redenbacker Hot Air Popper from @MusingsfromMe and @BlockbusterExp! Enter now! http://tinyurl.com/yaq2maw #couchcritics Leave a comment.

5. What is your favorite snack for family movie night? My little guy raids the pantry for snacks…he arrange the snacks on a tray. Leave a comment with your favorite snack.
I was given a gift card from Collective Bias for participating in this promotion for Blockbuster Express. Giveaway is open to U.S. residents only. Giveaway ends April 12 at 11:59 p.m.