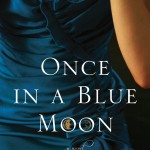 It took me a little time to get started with Once in a Blue Moon. My delay had little to do with the book and more to do with the book cover. You see I don't typically read books with this type of cover. I tend to shy away from romance novels. I was a little self-conscious about reading the book…in the church cafeteria…at the pool. Yes, I'm a bit of a prude when it comes to reading books with sultry covers!
By the way I actually think that Once in a Blue Moon
is NOT a romance novel. The cover is misleading. The book is about family and how families cope with separation. All the characters in the book have something to do with two sisters who are separated in childhood.
The two sisters — Lindsay and Kerrie Ann — lived not-so-happily with their mother until their mother's hard-living ways caught up with all of them. Lindsay, the oldest sister, was adopted by an older couple, while Kerrie Ann, the baby of the family, bounced from one foster family to the next.
The two sisters lost track of each other in different ways. Lindsay knew she had a sister, but didn't know where to find her, while Kerrie Ann only found out that she had a sibling from her lawyer. Kerrie Ann's daughter was taken in to foster care as a result of Kerrie Ann's drinking — a sad coincidence. Kerrie Ann mirrors her mothers' neglectful behavior with her own child.
As is true in many real-life cases, only when Kerrie Ann is sober is she able to realize how much she has lost. Kerrie Ann must find her sister to see if she can help her regain custody of her daughter. Will the sisters need each other? Will the sisters be able to restart their relationship after so many years?
The part of the book that involved the reunification of the two sisters was by far my favorite part. I was less interested in Lindsay's struggles to save her home from the ruthless developer. I was even less interested in Lindsay's involvement with the person who she later finds is the son of the developer. This storyline was contrived and forced.
The author did a good job drawing me in to the story. Even though Kerrie Ann and her long-lost boyfriend, Jeremiah, are not likeable characters, I was rooting for both parents to regain custody of their daughter.
The lesser characters are given a solid grounding by Eileen Goudge. Ollie, the young, lovesick coffeeshop owner, is a fully rounded character. I can almost sense how torn Ollie is when Kerrie Ann deserts him for her long-lost boyfriend, Jeremiah. We have all been in Ollie's shoes.
And then there is Ms. Honi — I loved this character. She is a true free spirit who was an exotic dancer — not a "stripper" as she frequently points out to everyone and anyone who will listen. Ms. Honi — the children's babysitter — was not allowed to look after the children when they were taken in to custody.
I would recommend Once in a Blue Moon. This book is a good read — even if I was less interested in the "land development" debacle.
I was given this book to review by the One2OneNetwork.