I have nightmares that one day I will see myself in a news story about overweight people. Only the story isn't about me or my weight gain or loss. No. I am just one of the people filmed from the waist down as I walk down a city street as part of the background film for the story on overweight people. Yikes, I'd hate to see myself in this type of news story…wouldn't you?!
As the new year progresses, I am making goals for myself. I don't want to blog about my New Year's resolutions because (1) I'm not ready to commit them to "paper," and (2) I see resolutions as for my eyes only. But, I will admit to wanting to change a few things about my way of life. As with previous years, a huge goal of mine is weight loss. I'm one of those people still trying to lose baby weight from a decade ago. Yikes! It's hard reading that sentence, but the reality is that I need to make changes.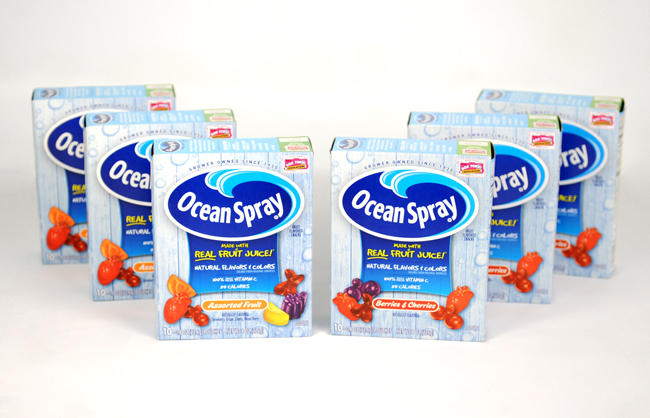 One of my downfalls is snacking. I either eat foods that are not that healthy OR I eat a too large portion of healthy and nonhealthy foods. One key factor for me is portion control. If I bag up popcorn or baked chips, I eat less. Recently, I was given a few boxes of fruit snacks.
Now if you are picturing those super-sugary, character-themed snacks your child begs you to buy in the grocery store…think again. Ocean Spray Fruit Flavored Snacks are in a different league. The fruit flavored snacks are full of taste. You can taste juice spilling out of the fruit snack.
Now for the details on Ocean Spray Fruit Flavored Snacks…
Great snack for kids and adults. Pop a pack in the lunchbag or stash a pack in your purse. Tasty anytime.
Available in two delicious varieties, Ocean Spray® Fruit Flavored Snacks: Assorted Fruit and Berries and Cherries.
Made with real fruit juice, natural colors (colors from natural sources), and flavors.
Made with apple, pear, and cranberry juice concentrate, but are not intended to replace fruit in the diet.
80 calories, gluten free, and contain 100% of the Daily Value of Vitamin C.
Like Ocean Spray on Facebook.
Follow @OceanSprayInc on Twitter.
BONUS for MOMS of SCHOOL-AGED KIDS! Ocean Spray Fruit Flavored Snacks are available year round Double Box Tops! Is your school a member of the Box Tops for Education Program? If not, why not? For more information on Box Tops for Education, click here.
The kind folks at Ocean Spray have asked me to host a giveaway. Did you know that 80 years ago Ocean Spray was started as a cooperative with three families? Today, the values of community are integral to Ocean Spray's 600 grower families? But, back to the giveaway…
Four lucky readers of Musings from Me will each receive 6 boxes (3 of each variety) of Ocean Spray Fruit Flavored Snacks!
Winning is easy. First, leave a mandatory comment. Second, leave one or more of the optional comments. Remember, you must leave the mandatory comment for the other comments to count. Oh and don't forget to leave your email address in the comment. so I can contact you if you win!
Mandatory Comment — Leave a comment.
Subscribe to Musings from Me via reader.

Optional Comment — Leave a comment.

Keep your eye on this blog for more giveaways. Posting reviews and giveaways through the end of January and beyond. Coming soon: Another fun toy from Best Pals and a Giveaway! And a week of DVD Giveaways!
I was given six boxes of Ocean Spray® Fruit Flavored Snacks to facilitate my review. The review samples, information, and giveaway have been provided by Ocean Spray® through MyBlogSpark. The views expressed in this post are my own. I follow the tenets of Blog With Integrity. Giveaway ends January 23, 2012, at 11:59 p.m. Giveaway is open to U.S. residents only.