When my girls were younger, both joined Girl Scouts. It was a group activity where they developed friendships and learned about subjects ranging from horses to insects to helping otheres. The troops were open to girls in our elementary school.
Our troop had a troop leader, but in order to spread the load each mom took charge of a "try-its." The try-it badges were worn on the girls' vests in recognition of completing tasks in a central theme. I chose the theme of language and cultures of the world. I had several activities planned, but wanted to find something visual to enhance my lesson plan. If you are a teacher or work with young children, you know how easily you can lose everyone's attention.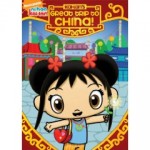 I wish I had Ni Hao, Kai-Lan: Kai-Lan's Great Trip to China
when I taught about languages in other countries. My son loved this DVD, so I know the Girl Scouts would have loved it, too!
Ni Hao, Kai-lan: Kai-lan's Great Trip to China
Join Kai-lan and her friends Rintoo, Tolee and Ho Ho in an adventure-filled, fun and educational trip to China in this exciting double-length feature episode. Kai-lan gets a phone call from her favorite great aunt (and YeYe's sister), Gu nai nai, inviting us to come to China and meet a baby panda! During their journey, Kai-lan and her friends are amazed by all the new things that they see. This playful and upbeat show introduces Mandarin Chinese in a fun, interactive way, also helping children to develop emotional and social skills.
Other DVDs:
Ni Hao, Kai-Lan: Super Special Days
Ni Hao, Kai-Lan: Kai-Lan's Carnival
Giveaway for Musings from Me readers! I have one copy of Ni Hao Kai-Lan Kai-Lan's Great Trip to China to giveaway! One comment = one entry. Enter now!
– Favorite strong TV/film role model. I love Marmie from the book Little Women. She raises 4 girls, while providing charity services to her community.
– Subscribe to this blog via reader.
– Subscribe to this blog via e-mail.
– Follow me on www.twitter.com/MusingsfromMe.
– Tweet this giveaway: @MusingsfromMe is giving away Ni Hao Kai-Lan's Great Trip to China DVD! Enter now: http://tinyurl.com/y8a97vw!
– Fan me on Facebook.
– Fan Ni Hao Kai Lan on Facebook.
I was given the DVD for review. This giveaway is open to U.S. residents only. Giveaway ends December 14 at 11:59 p.m.