There was a time when I could grab a DVD from the rack. Pop it in the car DVD player. Hit play and drive. All three of my children loved the same movie…Finding Nemo, Spy Kids 2, or any Disney movie was a surefire hit. Those days are long gone.
My son likes action movies. My daughter loves anything with dogs. My teen loves that she can now watch some PG13 films. As you can imagine choosing a movie for family movie night is difficult.We can hardly agree on any film. At times we have one movie going on in the playroom and one in the family room while mom and dad are on the computer.
Even though my children often want to watch different movies…we are still able to find movies that we all enjoy.
Our Pick for Family Movie Night
Air Bud Golden Receiver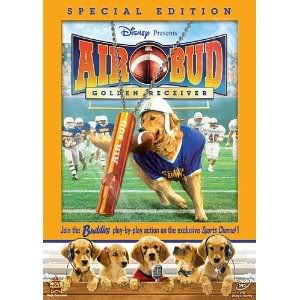 My tween is a huge Air Bud fan. She may like the Air Buddies even more! She is a dog lover stuck with two parents: one who is not a lover of animals and one who has severe allergies to dogs and cats. She desperately wants an animal. Is it inevitable that she will become a cat lady with 20 cats?
Air Bud: Golden Receiver
is all about Buddy trying his hand…uh I mean paw at football. Buddy and his kid owner help the school win the state championships. The plot thickens with the shenanigans of a couple of circus clowns who are out to get Buddy.
The kids have seen a few of the other Air Bud films. All were proclaimed hits without equivocation. What is not to love about a film about dogs and sports? I am not a dog lover, but even my heart melts a little hearing a dog talk.
Bonus Features on Air Bud Golden Receiver
• The Buddies Sports Channel — Join Budderball in the broadcasting booth as he and the rest of the Buddies, B-Dawg, Mudbud, Buddha and Rosebud, review the instant replay on the amazing football career of their dad, Air Bud.
• Air Bud Sport Whistle Necklace – Exclusive on-pack while supplies last.
Suggested retail price: $29.99 US. Rated: 'G' (US). Run time: Approx. 90 minutes
Want to watch Air Bud Golden Receiver Special Edition? I have one copy for a lucky reader of Musings from Me! One comment = one entry.
Subscribe to this blog via reader. Leave a comment.

Subscribe to this blog via e-mail. Leave a comment.

Subscribe to this blog via Google Friend Connect. Leave a comment.

Follow me on twitter. Leave a comment.

Fan my blog on Facebook. Leave comment.

I was given a copy of Air Bud Golden Receiver for my review. Giveaway ends March 31, 2010 at 11:59 p.m. Giveaway is open to residents in the U.S. only.