Sun. Surf. Waves. Sand between my toes. Drinks with a straw. It's what I am thinking about on this November morn. It's not particularly cold today or dreary. In fact, the sun is shining. This happy feeling takes me back to the last days of summer vacation this year…
My daughter was born at the end of August. The last week I was pregnant with her was insane and, quite honestly, I am not sure how I got through that last week.
It was August. Hot. Toddler who was in to everything. Husband who was working and taking graduate classes. And, oh did I mention it was hot?? Add in a mandatory two-day training at my freelance job. I *think* I was paid to go to the training — it's all a bit of a blur. The two-day training ended and I had ONE DAY to relax at home without work projects hanging over my head until I returned to work after my UNPAID maternity leave. Looking back at the company I worked for…they got a good deal from me for very little pay. I was one of those worker bee freelancers who never said no to an assignment.
The FREE day before I had the scheduled C-section? My toddler decided she wanted to wear underwear for the day…and I let her. You can imagine how fun it was for me to clean up the kitchen floor, the stairs, the bedroom all while 9 months pregnant. Not fun at all.
My daughter was born as planned and we became a family of 4 instantly. The saying goes that you make room in your heart for a second or subsequent child. I made room in my heart and wrapped my arms around figuring out how to do the tasks/errands/work with two children: an infant and a toddler.
This past August that infant turned 11. I have not wrapped my arms around the enormity of my baby turning 11. Even though I have a third child, my middle child will always be my baby — she was the most content baby. Cried when wet or tired. Screamed her lungs out night after night as a one-month-old until it finally dawned on me "Hey, she's tired and wants to go to bed." Even though it was only 7 p.m. I put her to bed — we kept the toddler up late so that my husband could see her when he came home from work. Gradually I got the toddler on the infant's schedule and overnight — literally — my evenings were so much more bearable. Before I had a toddler running about until 9 p.m. or so. Hello — watching TV and getting work done in the evenings!
We celebrated the 11-year-old's birthday with a kit from HouseParty for the premiere of Wizards of Waverly Place: The Movie. The kit consisted of a Treasure Hunt game, leis, Wizards draw string bags, spell notebooks, posters, a magic wand, a large poster, and coupons for Sara Lee. All I needed to do was send out evites, order pizza, and let the girls have fun!
The girls had fun: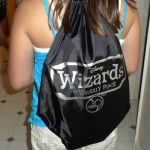 A huge thank you to HouseParty.com for sending the Wizards of Waverly Place: The Movie birthday kit!
Want to enter to win a party with David and Jake from Wizards of Waverly Place? Enter here! The party in this giveaway is through Sara Lee not houseparty.com.