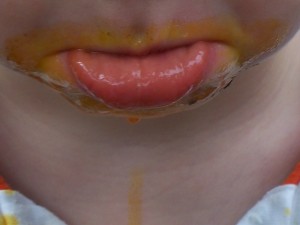 This a sponsored post through a SocialMoms.com and Clorox blogging program.
Is this a familiar scenario to you? You walk through the kitchen, or perhaps the kids' bathroom. Your mind is abuzz with plans for the day. You need to make lunch so that you and the kids can go to the park before school pickup. You wonder what you will wear to dinner with your spouse on Friday night. You are minding your own business. Lost in your thoughts. Suddenly your thoughts are derailed. Oooo, wet foot?!
Why are my socks wet? You ask yourself. You look down. There's a spill alright. It's on the floor. You can see it as plain as day. The ever-widening spill is now covering your kitchen floor. You look down at the spilled juice and your now pink, juice-soaked socks. Who spilled the juice? You walk squelching in your wet socks to find out who caused the spill.
You find the kids sprawled on couches in the family room. Several glasses litter the table. Juice…the glasses were filled with juice. Operative word is "were." Now all that is left is a dribble of juice in the bottom of each glass. There's a tell tale ring of juice around the base of one of the glasses. Hmmm… One by one you question the kids.
The denials come through loud and clear. "I don't drink juice! Someone must have drunk TWO glasses." declares the indignant teen. "I poured juice, but I poured it over the sink. VERY CAREFULLY. No way would I spill the juice!," asserts the tween. "What juice? I never had any juice," says the youngest child…as he licks his telltale juice moustache and there are streaks of juice on the front of his shirt. Hmmmm…all these denials and yet you have a wet sock…make that two wet socks to prove it.
In the annals of parenting, a spill that no one will own up to spilling is known as Anonyspill. Anonyspill leads to the blame game. The blame game is a game that kids play once mom discovers a spill. Your kids know who spilled the juice. But, your kids are not about to admit to spilling anything. Even though the kids have juice moustaches. And there are juice glasses on the table. And there is a huge puddle of juice on the kitchen floor. Your kid may shift the blame to another sibling, but there is no way she is going to admit that she poured the juice in a haphazard, willy nilly fashion. You know that someone spilled the juice on the floor, but short of having closed-circuit video installed in your home, you have no way of knowing who caused the Anonyspill. Maddening isn't it? And those juice laden, squelchy socks just add insult to injury. Is there anything worse than a wet sock?! The mystery of the drink that no one admits to spilling is known as an Anonyspill, a true unsolved mystery.

What is the worst mess that you have cleaned up? Was it so monumentally awesome that you named the spill? Do you now call ALL similar spills by the same name…in memory of that amazingly awful spill? And don't forget that you can use Clorox products — Clorox® Disinfecting Wipes, Clorox® Liquid Bleach, Clorox® Clean-up with Bleach, Clorox 2® Stain Fighter and Color Booster and Clorox® Toilet Bowl Cleaner — to clean up the messes, stains or mishaps of many and Ick mess. Anonyspill is my addition to the Clorox Ick-tionary. What is your word of extreme Ick?

Do you have a word for an icky mess that MUST go in the

Clorox Ick-tionary

? One of those words that you know someone will hear and jump up and down in there seat saying "Yes! I know all about that particular type of Ick!" You can share your own terms on

www.icktionary.com

. While you are adding your Ick word to the Ick-tionary, you can play games and win coupons while supplies last. Perhaps, you will forget just how bad that Ick-y mess was?

This blog post is part of a paid SocialMoms and <>Clorox blogging program. The opinions and ideas expressed here are my own. To read more posts on this topic, <>click here.

'); })(); // ]]>