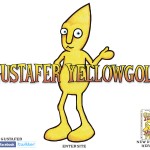 A small, yellow, cone-headed fellow from the sun has landed on Earth. His name is Gustafer Yellowgold.

Gustafer Yellowgold DVD/CD sets are unlike anything in family entertainment. Morgan Taylor's story-songs about Gustafer and his pals, performed against a backdrop of animations done up with karaoke-style subtitles for early readers, create a world as deep and original as it is beautiful. It's a music and animation extravaganza, but mellow, always mellow. Click here to watch Gustafer's video clips!
I found the Gustafer Yellowgold's Mellow Fever
CD/DVD to be relaxing music to work along to. The songs were rousing yet heart-felt. It reminded me of kid's shows from my childhood that were not character-driven. These kids's shows never had toy tie-ins or huge marketing campaigns. The animals and humans in the shows were learning to live in harmony in their world.
Morgan Taylor, illustrator, songwriter, and creator of the unique Gustafer Yellowgold multimedia concert experience, is hailed as one of today's most original performers on the family music scene.
The New York Times called Gustafer "a cross between 'Yellow Submarine' and Dr. Seuss." Entertainment Weekly hailed "…the most infectious original songs. It's like he's tapped into some pleasure center in the brain – both adult and kid…absurdly appealing. Grade A." Newsweek praised "an enchanting DVD … full of great pop tunes and hand-drawn animation about a li'l fella from the sun." The Los Angeles Times wrote, "Taylor's whimsical, lightly psychedelic musical world forms an interesting bridge between adult and kids' music."
Named 'BEST KIDS' PERFORMER 2008' by New York Magazine Morgan Taylor has been developing material about the visitor from the sun since 2005 and has released three award-winning Gustafer Yellowgold DVD/CD sets. The most recent installment, titled Gustafer Yellowgold's Mellow Fever, was released earlier this year. (Wilco members Pat Sansone and John Stirratt are heard as guest artists on Gustafer Yellowgold's Mellow Fever, as is Lisa Loeb.)

Gustafer is not just for kids! Gustafer Yellowgold's Show has been the wild-card opening act for groups like Wilco and The Polyphonic Spree. This story is perhaps the best introduction to Gustafer Yellowgold. Likewise, check out Gustafer's site for fun interactive games for kids!
Giveaway for Musings from Me readers! I have one copy of Gustafer Yellowgold's CD/DVD for one lucky reader! One comment = one entry. Enter now!
– What is your favorite outdoor activity? We love playing in the snow.
– Subscribe to this blog via reader.
– Subscribe to this blog via e-mail.
– Follow me on Twitter.
– Fan me on Facebook.
– Tweet this giveaway: @MusingsfromMe is giving away @Gustafer's Mellow Fever CD/DVD! Kids will love it! Enter: http://tinyurl.com/yhm4bzp!
– Follow @Gustafer.
– Fan Gustafer Yellowgold on Facebook.
I was given the CD/DVD for review. This giveaway is open to U.S. residents only. Giveaway ends December 10 at 11:59 p.m.