Have I mentioned that I am not a gamer? I'm the one who plays Ms. PacMan once a year and calls it a day. My kids are a different story.
A million years — or so it seems — I was a complete hold out on the kids playing games. Why did they need games when we had a thousand toys in the playroom? I'm all about hyperbole today! But, seriously the kids didn't need games, but then there was the summer we decided to have a staycation. Money was a little tight and my husband had very little leave. Here's a blog post from way back when I first started blogging about the fun we had that summer. We took day trips, played outside on the swingset, and bought our first gaming system. I was shocked with myself that I agreed, but the kids begged and my husband begged and was worn down.
That gaming system spawned several other systems. We're now a home with 4 gaming systems, and a slew of handheld games. While I often tell my kids to "log off and go and do something else," the kids actually get a lot of enjoyment from playing games. All things in moderation of course. If Mom doesn't play video games, Dad is ALWAYS available to play a game or three.
In fact as I write this my son is playing a new game I was asked to review. Of course, when I am asked to review a video game, I happily hand the new game to my very eager kids. No shortage of testers in this house!
My son is putting Disney's Epic Mickey 2: The Power of Two through its paces. This game has been the subject of much discussion the past couple of weeks. You see my kids received the first Epic Mickey game a couple of holidays ago, but no one liked playing the game. The game controller was hard to use in conjunction with the game. The graphics were so-so according to my tween. So, I wondered what my son would think of this new game.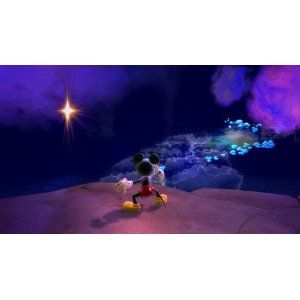 My observations on his experience with Disney's Epic Mickey 2: The Power of Two:
The game was a snap to set up. He put the disc in the Kinect, and that was it. No fussing to set up or reconfigure or anything else that might slow down the start of the game.
My son says the game is MUCH easier than the first game.
He loves that brooms are running around the game…causing mischief!
Like the first game, you decide how you want to interact in the world of Epic Mickey.
You play with Mickey and manipulate his "magic brush" to paint characters OR you can use the "thinner" to remove things that are in Mickey's way, like a wall.
My son says you can throw the brooms in to the water to make different brooms.
He says you play as Mickey Mouse and move through different scenes and adventures.
He skipped the intro…too excited to play…so he's learning the game as he goes.
What I like about this game, is that my son directs the play. He moves in the world of Epic Mickey at his own pace. No rush to play within a time limit. My son has been playing for about 10 minutes and already has moved to 7 or 8 different locations. He's exploring the world while testing out the game. He's in no rush. Playing and having fun!
The backstory behind the game is that you join Mickey and new friend — Oswald — in an epic battle to save the magical world of wasteland, and of course change it forever.
So what is the 411 on Disney's Epic Mickey 2: The Power of Two:
ESRB Rating: E for Everyone << Love this!
Game is available on: XBOX 360, XBOX Live, Wii, WiiU, PS3, and Nintendo 3DS.
Available from Disney Store, amazon.com, GameStop, Target, and Toys R Us. In Canada, the game is available at EB Games and Toys R Us.
The price of Disney's Epic Mickey 2: The Power of Two varies by game type and where you purchase the game:
XBOX 360 is $59.99
Nintendo Wii is $49.99.
Nintendo WiiU is $59.99.
PS3 is $59.99.
Nintendo 3DS is $39.99.
This post is sponsored by Disney's Epic Mickey 2: The Power of Two the video game. I was sent the game to facilitate my review. The views expressed in this post are my own. I follow the tenets of Blog With Integrity.