We're BABW fans from around the time my girls were 6 and 4. We were awaiting the arrival 0f our new baby. The girls were busy with school, friends, and activities, so I was not worried that either would be jealous of the baby.
There are plusses to having a baby when your kids are a little older! My oldest was 2 when her sister was born and all I can say is…babies are resilient creatures. For the most part, my two-year-old was gentle to the baby. Of course there was the time that I placed the baby next to the toddler in the car, and the toddler said "I touch baby eye." I saw in the mirror that the toddler had her finger on the baby's eyeball. Yikes. I moved their seats the next day! When my son was born, my four- and seven-year-olds were very gentle with our new baby boy — helpful too!
We decided to take the girls to www.buildabear.com so that each could choose a bear to commemorate the impending arrival of the new baby! The now-teen chose a White Bear with a pink nose dressed in a white t-shirt with a rainbow heart-shaped logo, jeans with a rainbow belt, and rainbow sandals. The now-tween chose a Brown Bunny with a tutu, ballet slippers, and a bow. It should be noted that my girls are 13 and 11 AND both just told me in detail about the BABWs they each got almost 7 years ago!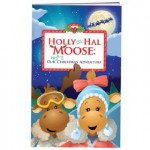 Our family got a chance to review and cuddle with Hal Moose and Holly Moose stars of the first feature length BABW movie: Build-A-Bear Workshop Holly & Hal Moose: Our Uplifting Christmas Adventure
(available as a book, too). The movie excellent. My son and I have been working our way through the accompanying story book — one chapter at a time!
Hal Moose is a super handsome moose with lights on his antlers. Hal's antlers are activated by pressing a button on the hand–there is an internal battery pack. Hal is dressed in a
bomber jacket, pants, shirt, black boots with a cool pair of goggles for his flights with Santa! He is available from amazon for
$48.50 for the fully dressed version. The 16-inch Hal without clothes is $18 on amazon and BABW. My 6-year-old loves Hal. We have a houseful of stuffed animals andour BABW creations are always house favorites!
My tween knows all the BABW stuffed animals by heart…White Bear w/pink nose, Brown Bunny w/tutu, Unicorn, Valentine's Bear, Turtle w/Shell Backpack, Monkey w/volleyball gear, Pink Bear w/magnetic paws, Frog, Panda w/Redskin gear, Elmo, Koala Bear w/firefighter gear, Brown Bear w/police outfit, Marie the Cat — I know, I know that's a lot of animals. What can I say…some families spend money on tickets to sports games, while we buy BABWs!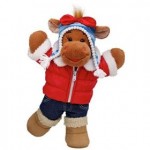 My girls were smitten with Holly Moose. Holly is a wise, big sister-type of Moose. She sports a red ski jacket, jeans, shirt, UGGs style boots(!), and striped hat with a a bow. The tween and the teen are sharing custody of Holly — so far the sharing is working well! Holly Moose in all her winter wear is available for $47.50 at amazon. 16-in Holly Moose is $16 on amazon.
I…uh I mean…the kids were given a Hal & Holly Moose for review, plus the book. We DVR'd the movie! These three kids — kid, preteen, and teen — would make thorough toy testers.