You will never hear me say "You know I could give up TV and not notice at all." TV is my source of all things entertainment plus a healthy dose of reality TV with a dash of news. Probably should adjust the proportions to watch more news, but I do find out news from the computer. Basically I need to be wired up to the computer or TV, but not an ipod. I am very much a kicking-it-old-school "playing CDs on a CD player."
As a young married couple I recall watching gavel-to-gavel coverage of the start of the Gulf War — "Operation Desert Shield" — on Fox in our cable days. My husband and I spent many an evening watching taped episodes of General Hopsital, movies, and I suppose shows. But do you know I can't recall the shows I watched. Perhaps Mad About You? I do have vivid memories of watching the Menendez trial on Court TV. It was riveting in a macabre way.
With our move to our new home, we were cable free for a few months. We had so-so reception for DC stations upstairs and adequate reception for Baltimore downstairs. I was adjusting to watching a fuzzy when my husband announced he could not take not being able to clearly see the Redskins player numbers. So, we made the move to DirecTV.
The dish was good at times, but useless in high winds. It was frustrating watching the dish reset itself after a power outage. We got used to the spotty service. All was business as usual until FIOS came a calling.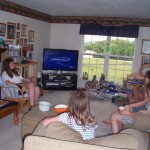 The alignment of phone-internet-TV was too good to miss out on. After a little delay we got hooked up with FIOS. The installation process was painless. A crew dug a narrow trench from the street to our house. A gardening crew landscaped around the trench. The access box was placed in the garage. Boxes were installed on all three TVs. The family room TV is the only TV with FIOS, but you can access DVR shows on the other two TVs. We've had a couple of times where we are watching two different shows at the same time. With cables buried underground we no longer have to worry about the high winds knocking our dish out of alignment.
In case our enthusiasm for FIOS was not evident, we were asked to do a vlog about FIOS. How did turn out? Well, it was discovered that some of us love to ham it up for the camera. While a few of us want to be serious and factual. One or two of us were fidgety. One of us should reconsider wearing a brown shirt.
Want to take a peak at the Musings from Me family's love for all things FIOS? Check out here.
Our family was given a Flip
and a gift card for participating in the Facts on Fios program. BTW, the Flip is easy enough for a 6-year-old to use, plus uses AA batteries.