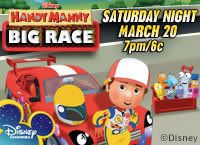 My son loves Handy Manny. Disney has been a source of great entertainment for all my kids when they were in preschool. My oldest was a lover of Little Mermaid. The middle daughter was in love with Bear and the Big Blue House. My kids all love Mickey Mouse Clubhouse.
Handy Manny is a show where everyone has to do his/her fairshare. Manny is a handyman. He takes on fix-it jobs for everyone in the town. Manny could not do his job alone. He needs the help of the tools. The tools are his best friends.
Let's see if I can remember the names of the tools: Tap is the hammer, and uh…uh… Well, here's the list per my son with a little help from Wikianswers:
Pat, the hammer
Dusty, the saw
Stretch, the tape measure
Felipe, the Phillips head screwdriver (the yellow one)
Turner, the flat head screwdriver (the blue one)
Squeeze, the pliers
Rusty, the wrench
Flicker, the flashlight
Disney has a new primetime show featuring Handy Manny and the tools. The show will air on Saturday, March 20 at 7 p.m. on Disney.
Check out these links for a sneak peak at Handy Manny Big Race.
Sneak Peak of Handy Manny Big Race
Manny's Pit Stop Shop online game
Tune in tomorrow night at 7 p.m. EST, I know my son and I will be watching!
I wrote this review while participating in a blog campaign by Mom Central on behalf of Playhouse Disney. Mom Central sent me a gift card to thank me for taking the time to participate.