I never understood the power of influence until my son was about 18 months old. He and I were alone during the day while my husband and the older kids were at school. For lunch I would make him "toddler" foods that were easy to pick up or chew. He ate everything I put on his highchair tray…everything. While he ate cheese, cantaloupe, Cheerios, crackers, and veggies, I ate "real people" food.
My son would reach for my plate. He would grab whatever was in my hand. He looked so sad when I said "No." In my mind, he was too young for the food I was eating. The food was too rich, too chewy, too something for him. Sooner or later I gave in. One little spoonful of soup wouldn't hurt him, would it? He loved the spoonfuls of soup. Chicken noodle soup became vegetable soup. Veggie soup became chili. Chili became pizza. After pizza, sandwiches were next. Soon his "toddler" food became my food each breakfast and lunch. Eventually I made both of us the same breakfast and lunch, Do your young children prefer your food to their food?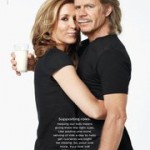 Once my children were old enough to notice what I ate, I started feeling pressure to eat better. Not only would I drink fewer sugary drinks like juice and soda, but I cooked better meals each evening. Gone were the chicken nuggets and macaroni and cheese. I introduced veggie pasta, more lean meats, milk at each meal, and even some fish. Do you want to be a role model for your family?
A major change in our eating habits involved drinks. My husband and I drink loads o' diet soda. Gradually we both replaced a diet soda or two a day with water or in my husband's case, iced tea. With three young children, juice had become a staple at breakfast, lunchtime, dinnertime, or really anytime of the day. I swapped out the juice for milk. My oldest loved tthe change. My middle grimaced at the milk, begged for juice, and finally became resigned to the change. I found that the kids ate fewer snacks between meals when a glass of milk was a part of breakfast, lunch, or dinner.
I love the got milk? campaign, don't you? The National Milk Mustache got milk? campaign has a new interactive section on their Facebook page. On the page you can create your own milk mustache picture, watch the video about Moms, and send an e-postcard to someone you love. Last week, I watched part of Modern Family for the first time. I'd heard quite a bit about the show, but never seen it. One of the families on Modern Family is in one of the got milk? Milk Mustache campaigns. You can see some behind-the-scenes on the Facebook page.
If you're like me and love giving your family something good to drink, head on over to the National Milk Mustache got milk? Facebook page…and Like It. Click around the page for videos on why moms love milk, and so much more.
I wrote this review while participating in a blog tour by Mom Central Consulting on behalf of the National Milk Mustache got milk? Campaign and received a promotional item to thank me for taking the time to participate.