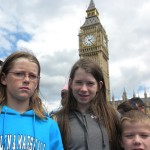 I posted this over at FVC…
England is my home, my birthplace, my country, my homeland, but America is my home now. My need to go home has not abated in the intervening 16 years since my last visit. Every year since my daughter was about two I have wondered is this the year? Something would happen: a new baby, a husband in graduate school, no money, tiring and unpredictable freelance work, another baby, and finally school for all three. This summer with the youngest at 6, the middle at 11, and the oldest at 13, we are staring down the barrel of high school sports, college, friends. If a trip to England was going to happen it was going to happen now.
My husband took the reins of planning. He secured fabulously cheap flights from Virgin Atlantic — note that I use the word "cheap" with reservations. Flights to Englnad are never cheap, but he shopped around and found what day is a good day to buy tickets. We bought airline tickets on a Tuesday, by Wednesday the tickets were $500 more. Virgin Atlantic is a great airline for kids: kids' meals, backpacks filled with goodies, and kids' channels and games.
Once on the ground we esconced urselves at our hotel — Novotel Hammersmith. Our rooms were a good price. The rooms were roomy enough for 5 people. We booked two rooms: one for us and one for my parents. My parents found the hotel to their liking — my mother is not that mobile, so stayed at the hotel for much of the week only venturing out a couple of days in a cab to the Royal Academy and Fortnum & Masons.
The sights were all a success. On our top five list for visiting London with kids:
1. Tower of London — jewels and knights
2. London Eye
3. Hampton Court Palace
4. Madame Tussaud's
5. Double decker bus tour of London
Other sights we visited:
1. Westminster Abbey
2. The Globe Theater
3. Boat tour of the Thames
4. H.M.S. Belfast
5. Buckingham Palace
Our trip also included my actual hometown of Manchester and Stratford-upon-Avon.