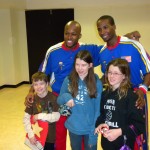 I wondered how we would do it. You know… Try to get 5 people up and dressed and out the door to a fun family event on the day after Christmas Day. We are one of those families who can make a simple "Let's go to [fill in name of fun place]" in to an ordeal of rushing around, forgetting items, yellling, running back in to get forgotten items, and well, you get the idea. When it comes to rushing this family can be a hot mess!
Let's chronicle our tardiness, shall we?
I was late to my own wedding. This was pre-kids so I have only myself to blame.
I had two scheduled c-sections…you guessed it late getting to the hospital with botth babies.
I was late to my middle dauughter's Christening. Yes, I was the mom changing her daughter out of her baby clothes and dressing her in the gown…all while sitting in church. I remember trying to appear cool and calm, as if to say, "What? I planned on changing the baby when we got to church!"
I was late taking my daughter to preschool on her first day — only 5 minutes, but we were late.
I was late on numerous preschoool pickups. Not late enough to get charged late fees, but late enough that my youngest was the last one in the classroom.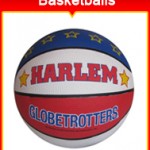 So, it was amazing for us to leave our house with enough time to get to 1st Mariner Arena in Baltimore with time to spare before our meet-n-greet with the world-famous Harlem Globetrotters.
The meet-n-greet was great for the kids. There were 6 Harlem Globetrotters at 3 different photo op stations. My son and his two sisters got autographs and posed for photos.
Once we were seated I was ready to enjoy the game. Our seats were behind and to the left of the net. My son and I waited for the teams to come out for warmups while Dad and the girls went looking for food.
The game was very entertaining. Two teams: the ever-popular Harlem Globetrotters and the bad sportsman Washington Generals played a 4-quarter game with many funny bits, dancing, competition, and audience participation. My son was laughing almost the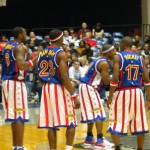 entire game. Even the teen looked amused. You know what those teens are like — if it is not a trip to the mall, the movies, or somewhere they want to go — teens can be disinterested and quite possibly surly. Not today. My teen was laughing and participating in the show.
The show returns to Maryland:
2/21/10 Salisbury, MD
3/8/10 Frostburg, MD
4/11/10 Towson, MD 12:00 p.m.
4/11/10 Towson, MD 4:30 p.m.
For further details on when the Harlem Globetrotters are coming to a stadium near you, go HERE.
Musings from Me Readers: Stay tuned! I will be giving away a family 4-pack of tickets in the spring.
I was given tickets to see the Harlem Globetrotters.